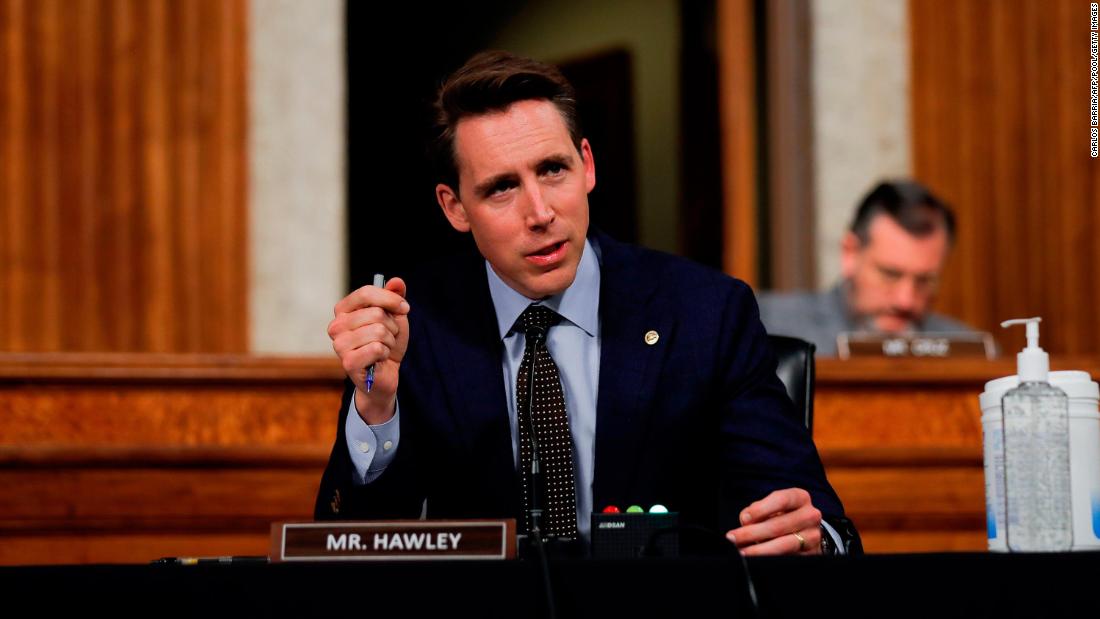 "The question should not be, When do we get to leave? But instead, How are we going to win?" Hawley wrote in one blog post from 2005 about Iraq.
Regardless of whether former President Donald Trump runs again in 2024, Hawley has positioned himself as a potential presidential candidate with a pro-Trump platform that has included largely voting against President Joe Biden's picks. Hawley has attacked Biden's team
for being
"pro-endless wars,"
citing past support
for the Iraq War, and
calling
Biden's team "warmongers."
Like Hawley, Trump initially supported the Iraq War, and then campaigned heavily against the war in Iraq in his 2016 bid criticizing Republican primary opponents and eventual Democratic opponent Hillary Clinton for backing the invasion. Trump,
opposed the war
within a year of its start, but it's unclear when exactly Hawley changed his opinion.
Phil Letsou, a spokesman for Hawley, said Hawley's views had changed and pointed to his support in the Senate for withdrawing from Afghanistan and opposition to sending additional troops to the Middle East.
"Senator Hawley's views have definitely changed since his school days. If the twenty-year failed experiment in 'neo-conservative' globalism in the Middle East doesn't convince you that nation building doesn't work, nothing will," Letsou told CNN in an email.
It does not appear that Hawley campaigned on opposing Middle East wars prior to his election to the Senate, according to a KFile review of campaign events and interviews.
Hawley has heavily criticized members of Biden's administration, including Secretary of State Antony Blinken.
"That is, we must both train Iraqi troops and use them to suppress the insurgency as well as push forward with the formation of a stable, democratic government," he continued. "He also understands that military operations in Iraq must be subordinated to and integrated with our broader geo-strategic goals in the region. Read the piece. It'll make an excellent primer for the President's Oval Office address tonight."
Citing Weekly Standard founder and editor Bill Kristol in lambasting the term "exit strategy," Hawley said that people should not be asking when the US should leave Iraq, but how to win the war.
"Whatever one makes of these specific proposals, the time has come for the President to announce a clear, coherent and quantifiable strategy for moving forward in Iraq," he wrote about Bush. "The question should not be, When do we get to leave? But instead, How are we going to win? But unless the Administration does something quickly to answer that second question, they'll have no choice but to answer the first, sooner rather than later."
"Major Tucker is a Marine. What's more, he fought in Persian Gulf I, and assures us that contrary to the impression one might form from Swofford's book and Mendes' movie, Marines are typically not self-absorbed, unintelligent, irresponsible slackers. Have a look."