Italian Prime Minister Mario Draghi has stepped back from resigning, calling for a new pact to save his unity government from collapse.
Six days after the president rejected his resignation, Mr Draghi said it was impossible to ignore the many Italians calling for the coalition to survive.
He told Italy's Senate a completely new agreement was "the only way, if we want to stay together".
"We need a new, sincere and concrete pact: are you ready?"
Mr Draghi, the unelected ex-head of the European Central Bank, has led a unity government for 18 months and was due to step down next year ahead of elections.
But he tendered his resignation last Thursday, when a key member of his broad unity coalition, the populist Five Star movement, pulled out of a confidence vote over policy disagreements and triggered a political crisis. Five Star was a key partner in a broad-based government that included left and right parties.
President Sergio Mattarella rejected his resignation, asking the 74-year-old prime minister to address parliament this week.
Early departure from the job could plunge the EU's third-biggest economy into early elections, delaying much-needed reforms, as well as Italy's 2023 budget. Italy is the biggest recipient of grants and loans from the EU's enormous Covid recovery fund, but its next instalment is dependent on a list of changes.
Now Mr Draghi has decided to face down the Five Star movement and stay. A confidence vote will take place on Wednesday evening, which he is likely to win.
The prime minister said the mobilisation of Italians who wanted the unity government to continue was "impossible to ignore". He praised the public, unions, universities and industry as well as health workers and the world of sport for their "undeserved" appeals to carry on.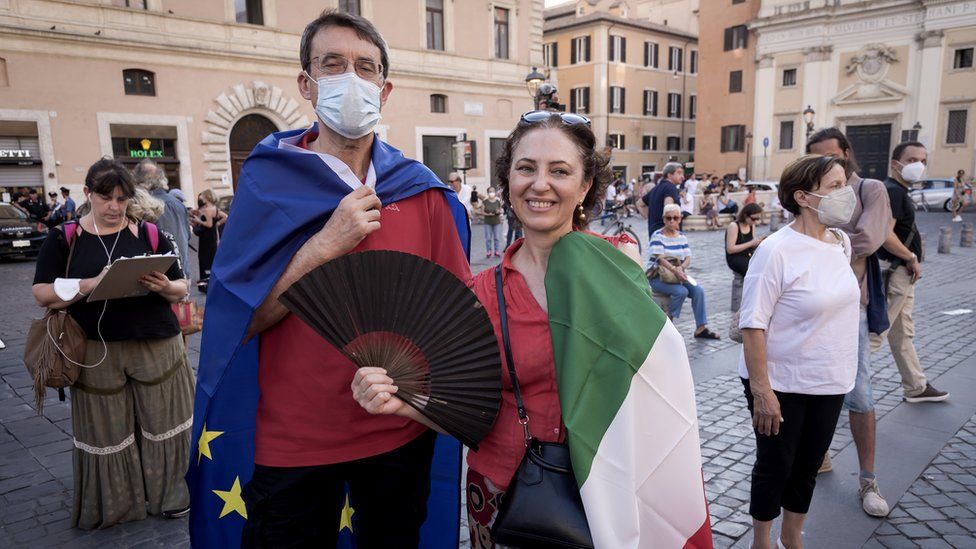 Several protests have taken place calling for Mr Draghi to stay in office and polls show most Italians agree. Some 2,000 mayors, as well as 250 business leaders and unions, have backed him, and ratings agency Fitch has warned that reforms would probably become more challenging without him.
He was appointed to stabilise Italy during Covid, leading the economic recovery from the pandemic and more recently through Russia's war in Ukraine.
Mr Draghi highlighted the unity government's achievements, from the Covid vaccination campaign to economic support for businesses and families, and said all its objectives had been achieved.
Italy was now on the path to reforms and investments that were unprecedented in its recent history. Its support for Ukraine and condemnation of Russian atrocities had shown Italy's leading role in the EU and G7, he added.
Mr Draghi praised the political parties for putting aside their differences to work together in government, but said that cohesion had gradually fallen apart and there was far more to be done. The only way of rebuilding trust was through a "strong, cohesive government".
While most of the Senate applauded Mr Draghi, MPs from both Five Star and the far-right Leave parties did not. The onus is now on the political parties that make up the government to decide whether they back him. The Senate will debate his speech ahead of the confidence vote, and the lower house will follow suit on Thursday.
The centre left has already given Mr Draghi its support but all the parties have an eye on the coming elections.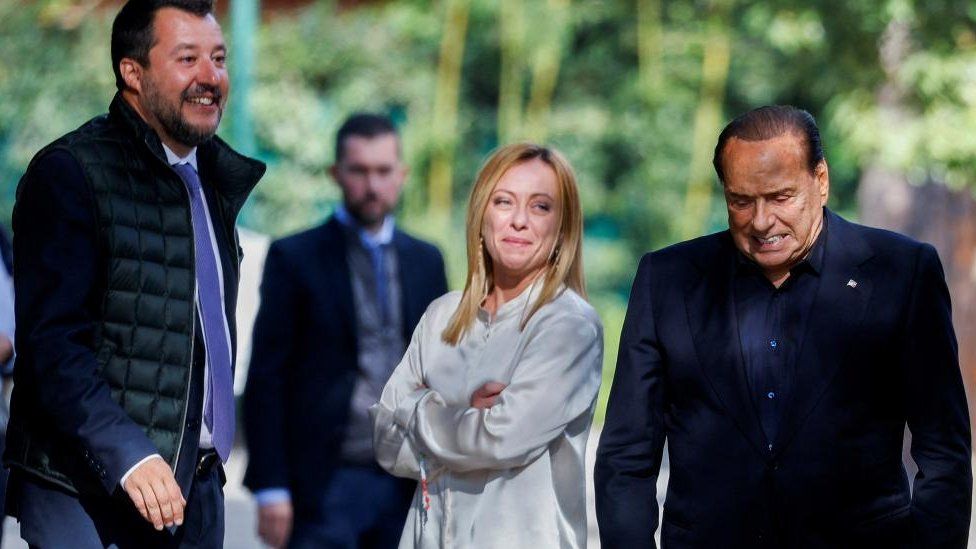 Opinion polls suggest Italy's next prime minister would come from the far right. Giorgia Meloni, leader of Brothers of Italy, has already called for an autumn election, highlighting a recent poll that gave her party 23.8% of the vote. "This explains why the left is so scared of elections," she said.
Unlike the rest of the right, Ms Meloni is not part of the Draghi government, but the League and Forza Italia would be natural partners with her in any future coalition.