London's fire service had its busiest day since World War Two dealing with several blazes in record-breaking temperatures on Tuesday, London Mayor Sadiq Khan has said.
The capitol was one of 15 areas around the UK to declare a major incident.
The fires started on a day which saw a record temperature of 40.3C in Coningsby, Lincolnshire.
The forecast is still warm but cooler on Wednesday but there are warnings in place for thunderstorms.
A yellow warning has been issued by the Met Office for heavy showers and thunderstorms which could bring disruption in eastern and south-east England this afternoon.
The weather is also continuing to affect transport – with passengers advised to only travel if necessary.
Mr Khan said London Fire Brigade (LFB) received 2,600 calls as it dealt with multiple wildfires across the capital.
In Wennington, east London, 100 firefighters tackled a blaze which destroyed several homes.
LFB said two rows of terraced houses, four other homes, 12 stables and five cars were destroyed by the blaze, while one firefighter at the scene described it as "absolute hell".
Dramatic images from the scene showed smoke billowing from a number of buildings, some with their roofs collapsed, and extensive damage to the surrounding land.
Speaking to BBC Radio 4's Today programme, Mr Khan said there were more than a dozen fires at the same time.
He said: "Yesterday was the busiest day for the fire service in London since the Second World War.
"Normally we get 350 calls a day, on a busy day we can get up to 500 calls. Yesterday the fire service had more than 2,600 calls a day."
The mayor has advised Londoners not to have BBQs in parks or private gardens due to concerns about the risk of grass setting alight.
He added: "The grass is like hay, which means its easier to catch fire, and once it catches fire it spreads incredibly fast like wildfires like you see in movies or like you see in California."
LFB assistant commissioner Jonathan Smith said the brigade dealt with 15 major fires, along with a large number of wildfires and grassland fires.
The senior firefighter said: "We will investigate all of those incidents and make sure we get a full picture of why the fire occurred.
"But what we can say with some certainty is that the heat and dry conditions we've experienced over the last week created the perfect scenario for these rapidly spreading fires across grassland and woodland, and it was the speed of these fires which was a particular challenge for us to deal with."
'My house is completely gone'
Tim Stock alerted the fire brigade when he saw flames near his home in Wennington.
Mr Stock, whose house was destroyed, told BBC Radio 5 Live he and his son had spotted the fire in his neighbour's garden but, despite their best efforts with a hose and watering can, had been unable to stop it spreading.
"I reckon about 15-20 houses might be gone or uninhabitable," he said.
"My house is completely gone, as is the next door neighbour's and three or four other houses along that bit."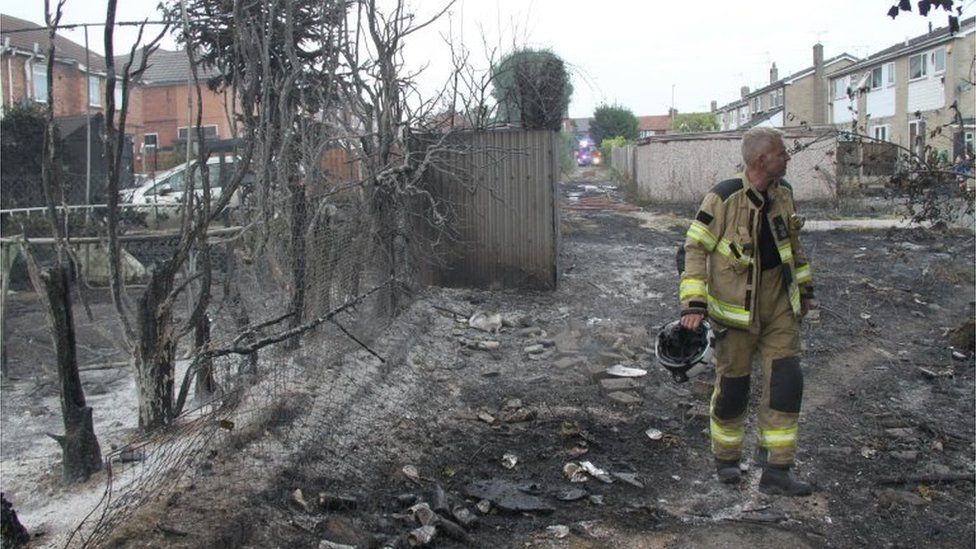 Mark Hardingham, chair of the National Fire Chiefs Council (NFCC), described "stretched" fire services across the UK dealing with an "unprecedented level of wildfires".
He told BBC News: "I've been in the fire service for over 30 years now and yesterday was just about the busiest I've ever seen the fire and rescue service in that time.
"The images that we saw yesterday remind me of what I've seen in California, Australia and southern Europe in recent years, and not so much in the UK."
Phil Garrigan, who leads the NFCC's National Resilience group, said the UK must now consider what equipment it had to fight wildfires.
He said: "Most European countries where they have significant wildfires have planes or helicopters which would be utilised to collect or distribute water to areas where the fire is developing.
"The UK relies on third parties to provide that capability, and as we look towards the future its certainly something the UK government and fire rescue services need to consider."
Heatwaves have become more frequent, more intense, and last longer because of human-induced climate change, and that hot, dry weather is likely to fuel wildfires.
The world has already warmed by about 1.1C since the industrial era began and temperatures will keep rising unless governments around the world make steep cuts to emissions.
Met Office chief scientist Prof Stephen Belcher said Tuesday's temperatures was striking due to the large record-breaking margin and the extensive area of the UK that experience the severe temperatures.
Speaking to BBC News, he said the UK needed to adapt to the high temperatures. But "aggressive emissions cuts" would very sharply reduce the frequency of extreme temperatures.
It comes as Just Stop Oil demonstrators climbed motorway signs on the M25, near Cobham, Surrey, over extreme temperatures in the UK. Highways England warned there are delays of over an hour.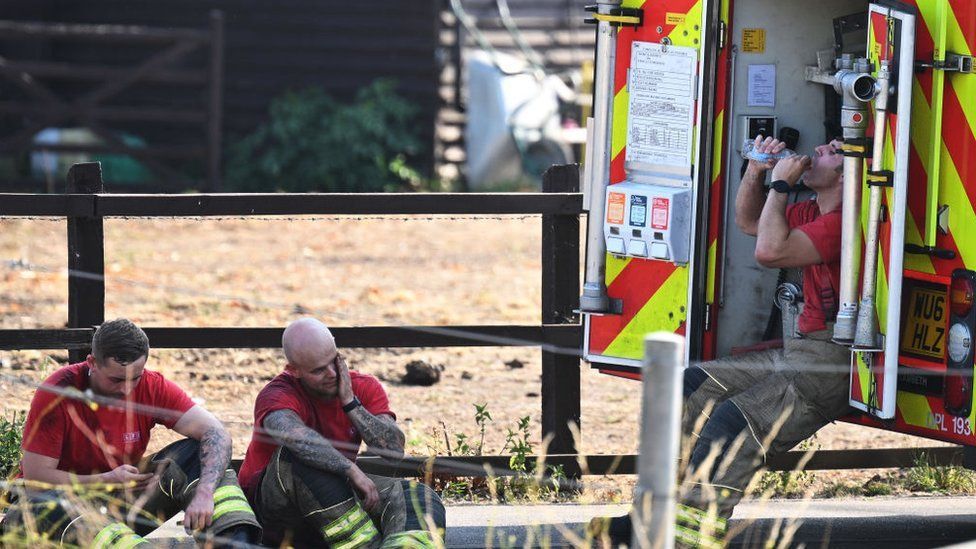 The high temperatures brought disruption to a number of public services on Tuesday.
Miriam Deakin, interim deputy chief executive of NHS Providers, said the heatwave had forced hospitals to scale back planned surgeries, while a spokesperson for the East of England Ambulance Service said the service had seen above-average calls and was expecting to see the impact of heat-related illness into the weekend.
Around 8,000 properties in Yorkshire, Lincolnshire and north-east England were left without power after the extreme temperatures caused equipment to overheat.
At least nine people are also known to have died since Saturday while swimming in lakes and rivers.