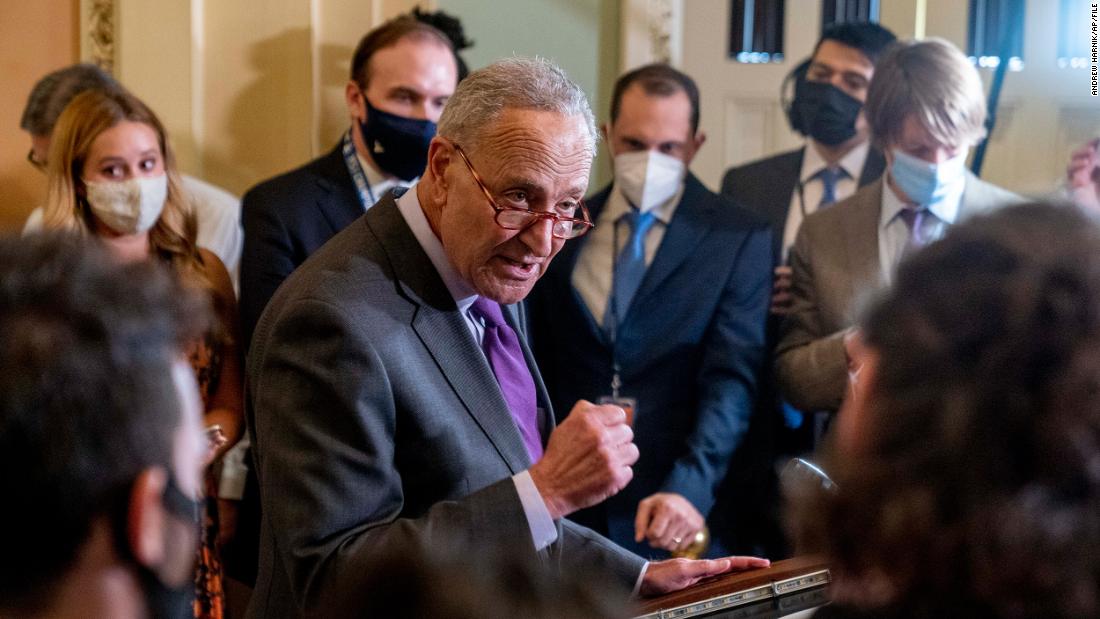 The bill would transform the nation's social safety net despite being whittled down to roughly half its original size amid infighting between the party's moderate and progressive wings. It would create a universal pre-K program, assist families with child care and send them the
enhanced child tax credit
for another year. It would also provide
beefed-up subsidies on the Affordable Care Act exchanges
through 2025 and offer federal help to those who fall below the poverty line.
It would funnel nearly $570 billion into climate measures, attempt to address affordable housing shortfalls and provide money to parents to buy their kids food over the summer.
Once it gets through the House, the legislation would still have to be approved in the Senate, where Democrats can't afford to lose a single vote in the reconciliation process.
Here's what's in:
Heads of household earning up to $112,500 and joint filers making up to $150,000 annually would qualify for the enhanced payments. But, unlike in 2021, only these families would receive the funds in monthly installments next year. Eligible parents with higher incomes would have to claim the credit on their tax return the following year.
The credit would be made permanently refundable so the lowest income families would continue to qualify. The enhancement, which was part of the $1.9 trillion coronavirus relief package Democrats enacted earlier this year, is currently only in place for 2021.
This credit, along with the earned income tax credit, would cost about $203 billion, according to the White House's latest estimate.
The House bill unveiled in September would have extended the credit through 2025.
The earlier House bill would have extended it permanently.
It also aims to improve the quality of caregiving jobs. The measure would cost $150 billion, according to the White House's latest estimate.
Originally, Biden had hoped to shower $400 billion on this effort as part of his infrastructure package.
This provision, along with Medicaid expansion, would cost $126 billion, according to the White House's latest estimate.
The initial House bill would have made the enhancement permanent.
This provision, along with the enhanced Affordable Care Act subsidies, would cost $126 billion, according to the White House's latest estimate.
The bill would also increase the federal assistance for expansion states to 93% through 2025.
And it would require state Medicaid programs to provide 12 months of eligibility to women after they give birth. States now typically provide 60 days of coverage.
Only 30% of seniors over age 70 who could benefit from hearing aids have ever used them, the White House said.
This measure would cost $28 billion, according to the White House's latest estimate.
The measure would also invest in down payment assistance and in community-led redevelopment projects in under-resourced neighborhoods. And it would provide $24 billion to fund housing vouchers and supportive services.
The effort would cost about $155 billion, according to the White House's latest estimate.
It would invest in historically Black colleges and universities and other institutions that serve underrepresented communities. And it would increase funding for workforce development.
Also, it would impose a 15% minimum tax, calculated on a country-by-country basis, that American companies pay on foreign profits, consistent with an agreement Biden recently won among 136 countries. The provisions would yield an estimated $814 billion, the Joint Committee on Taxation said.
Next year, about 30,000 tax filers are expected to make $10 million or more, according to the nonpartisan Tax Policy Center. About 12,000 of them are likely to earn at least $25 million.
The legislation would also impose penalties if drug companies increase their prices faster than inflation. And it would redesign Medicare's Part D drug plans so that seniors and people with disabilities wouldn't pay more than $2,000 for medications bought at the pharmacy. The bill would also cap what Americans pay for insulin at $35 a month.
The prescription drug measures would save about $250 billion, according to the Biden administration, though the Congressional Budget Office will provide a more precise estimate.