Wall Street firms also set aside more money to prepare for a potential recession
What Bank Earnings Can Tell Us About the Economy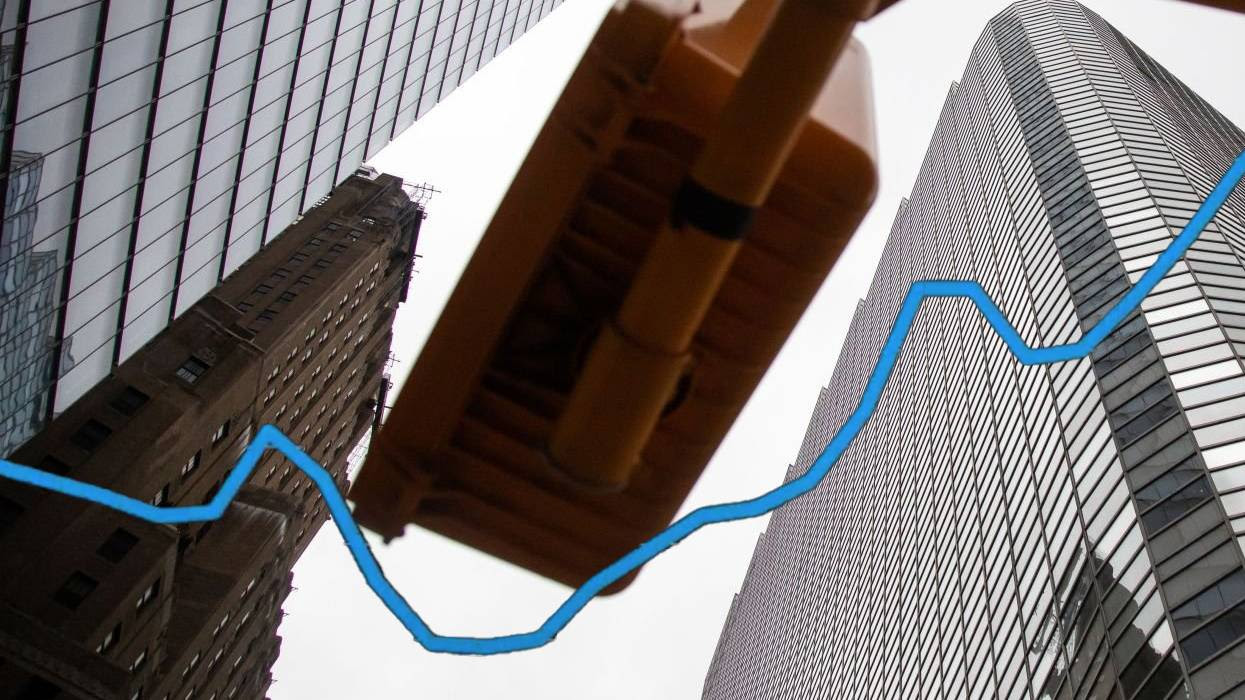 What Bank Earnings Can Tell Us About the Economy
Economists and financial analysts look at bank earnings to get a sense of the economy's health. WSJ's Telis Demos explains how inflation as well as recession concerns can be reflected in their results. Illustration: Lorie Hirose
A Conversation With St. Louis Fed President James Bullard
St. Louis Fed President James Bullard sits down with Nick Timiraos, The Wall Street Journal's chief economics correspondent, to discuss his outlook for the economy, inflation and interest rates in 2023.
While investment-banking fees were down at both banks and across Wall Street, investors pummeled Goldman in particular. Its shares dropped 6.4%, while Morgan Stanley's rose 5.9%.
Investors have been looking for more clarity about where Goldman is going and what it is trying to be. The bank has pulled back on its ambitions to build a large consumer-facing business, and it has reshuffled its businesses. It continues to focus on steadier units like wealth management and less on the high-risk, high-reward units that were its traditional powerhouses, like investment banking.
"Simply said, our quarter was disappointing," Goldman CEO David Solomon told analysts. "These results are not what we aspire to deliver to shareholders."
Goldman missed analysts' expectations for both profit and revenue. Its earnings amounted to $3.32 per share, compared with the $5.56 per share expected by analysts polled by FactSet. It was Goldman's biggest earnings miss in years, according to FactSet.
The results cap a tough year for Wall Street deal makers. Companies flush with cash, a roaring stock market and a positive economic outlook fueled a deals boom in 2021. But M&A took a dive in 2022. Rising interest rates, inflation, Russia's war in Ukraine and concerns about a looming recession pushed many CEOs to shelve their plans to go public or buy other companies.
Investment bankers at both Goldman and Morgan Stanley saw big declines in the fees they earned from advising companies on mergers and from underwriting stock and bond offerings. Investment banking revenue fell 48% at Goldman from a year ago and 49% at Morgan Stanley.
JPMorgan Chase & Co. and Bank of America Corp. last week reported even steeper drops in investment banking fees, down by more than half at both. But those banks both have big consumer arms and are less reliant on deal making than their Wall Street-heavy counterparts.They both reported higher overall profit and revenue for the fourth quarter.
The banks all set aside more money for potential loan losses, a sign that they are preparing for an economic downturn.
Goldman executives said the bank increased rainy-day funds partly in response to existing credit-card balances. Executives also said they had slowed credit-card originations and tightened underwriting.
"When we started this business we knew and expected that a consumer business over the long term would have ups and downs over the credit cycle," Goldman finance chief Denis Coleman said in an interview. "We happen to be in a more negative part of the cycle right now."
Morgan Stanley CEO James Gorman told analysts he is highly confident that investment banking will pick up again when the Federal Reserve pauses its rate increases.
"We're not of the view that we're heading into a dark period, whatever negativity in the world is out there," Mr. Gorman said. "This thing will turn."
The economic uncertainty that was bad for investment bankers was, generally, fuel for traders. Trading revenue rose 18% at Goldman, following increases reported last week by JPMorgan, Bank of America and Citigroup Inc.
Goldman Sachs and other Wall Street deal makers are grappling with a 2022 dive in mergers and acquisitions. Photo: Lucia Buricelli for The Wall Street Journal
Morgan Stanley was the exception. Its trading revenue fell 12%.
The company, however, emphasized the results in its wealth-management business, where revenue rose 6% and profit increased by one-third. Mr. Gorman has doubled down on wealth management throughout his CEO tenure, emphasizing it as a ballast against the highly volatile businesses of trading and banking. Wealth management accounted for about 45% of Morgan Stanley's 2022 revenue.
Mr. Solomon is trying to steer Goldman on a similar path, though he said Tuesday that Goldman would continue to grow its investment banking and trading businesses. He also said the bank would benefit as it continues to integrate the banking and trading businesses with each other, and asset and wealth management with each other.
Advertisement – Scroll to Continue
"We're on a journey," Mr. Solomon said. "Would I like it to be further along? Yes. If it was further along, there would have been less volatility, particularly in the context of this year and the fourth quarter."
The bank is also in the process of pulling back on some of its consumer efforts. Last week it revealed some details about the costly toll of its move into Main Street lending. On Tuesday, Goldman disclosed that its Platform Solutions unit had lost $3.8 billion on a pretax basis since the start of 2020.
That unit includes Goldman's credit-card partnerships and specialty-lender GreenSky.
"We tried to do too much too quickly," Mr. Solomon said on a call with analysts.
SHARE YOUR THOUGHTS
What is your outlook for Goldman Sachs? Join the conversation below.
Fourth-quarter revenue jumped in Platform Solutions, though the year-ago results didn't include GreenSky. The bank said the unit's higher revenue was also due to consumers taking on significantly higher credit-card balances.
Overall, Goldman turned out $1.33 billion in fourth-quarter profit, down from about $3.94 billion a year ago. Goldman's fourth-quarter revenue was $10.59 billion, down 16% from a year ago. That missed the roughly $10.76 billion expected by analysts.
Morgan Stanley's fourth-quarter profit was $2.24 billion, down from $3.7 billion a year ago. That amounted to $1.26 per share, just topping the $1.25 that Wall Street expected.
Both banks recently laid off employees, and the industry is expected to slash bonuses.
Goldman cut its 2022 compensation expense by 15%, and Morgan Stanley cut its compensation pool by 6%.
"We continue to focus on cost discipline," Goldman said in a statement. "We're looking at expenses in every corner of the firm and that will take time to be reflected in our results."
Write to AnnaMaria Andriotis at annamaria.andriotis@wsj.com, Charley Grant at charles.grant@wsj.com and Gina Heeb at gina.heeb@wsj.com

The author is solely responsible for the article and his or her opinion.