They duelled for the top job in France five years ago, but now Emmanuel Macron faces a far stronger challenge from a reinvigorated leader of the far right in Marine Le Pen.
The second round of France's presidential election takes place on 24 April, and the polls suggest the race will be close. So who are the two candidates and what is their vision for France?
When he became France's youngest ever president in 2017, it sealed a meteoric rise that came less than a year after he launched a centrist political movement called La République En Marche! to challenge the traditional parties.
He easily defeated Marine Le Pen in the 2017 run-off, winning 66% of the vote. Five years on, aged 44, he continues to dominate French politics but the polls suggest this time his far-right rival has a real chance of unseating him from the Élysée Palace.
He swept to power as an unknown quantity, a charismatic former economy minister who had never run for elected office before, offering a more centrist vision for France.
A protégé of Socialist President François Hollande with a background in investment banking, he brushed aside old political loyalties and, to many voters, that set him apart from the ruling class, even though he shared the background of France's political elite. The Socialists and Republicans who had run France for so long are now in tatters.
His rise to power appeared effortless, but he has had to navigate choppy political waters to push through the controversial reforms he promised voters.
He made it easier for companies to fire workers, cut taxes and introduced tough security laws to tackle terrorism. But he was forced to scrap a proposed fuel tax in 2018 after weeks of unrest stoked by yellow-vest protesters, known as gilets jaunes.
Other reforms, including a promise to bring the jobless rate down from more than 10% to 7% by 2022, were hit by the Covid pandemic, although unemployment is currently down to 7.4%.
He is now proposing full employment within five years, cutting taxes by €15bn (£12.5bn) a year for households and businesses, and paying for his programme by gradually raising the retirement age from 62 to 65.
Increasing the pension age is unpopular with voters already facing a cost of living crunch. His opponents have also accused him of relying on expensive advice from US consultancy firm McKinsey. Marine Le Pen has denounced him as a wealthy "candidate of finance", even though she is something of a property owner herself.
He has had to rethink a controversial plan to make a back-to-work benefit for the unemployed called RSA conditional on 15-20 hours of work a week. Mr Macron also wants to invest in the armed forces, doubling France's reserve force.
He won more than 27% of the vote in the first round, three points higher than in 2017. But he is no longer an unknown quantity and many of the voters who backed Mr Macron first time around have tired of him. He is still favourite to win, but tightening opinion polls show the race is wide open.
This is Marine Le Pen's third tilt at power but her biggest chance yet.
She has made this election a choice about the future of her country's society and civilisation and promised to "restore France's sovereignty".
Her family has been synonymous with the far right in France for decades, but when in 2011 she took over the mantle of leader of the far right from her father Jean-Marie Le Pen, she set about reforming his old National Front and made it her own.
A political player in France for years, Marine Le Pen became a Euro MP before acting on her presidential ambitions. After she was trounced by Emmanuel Macron in the presidential run-off in 2017, she rebranded her party as Rassemblement National, or National Rally.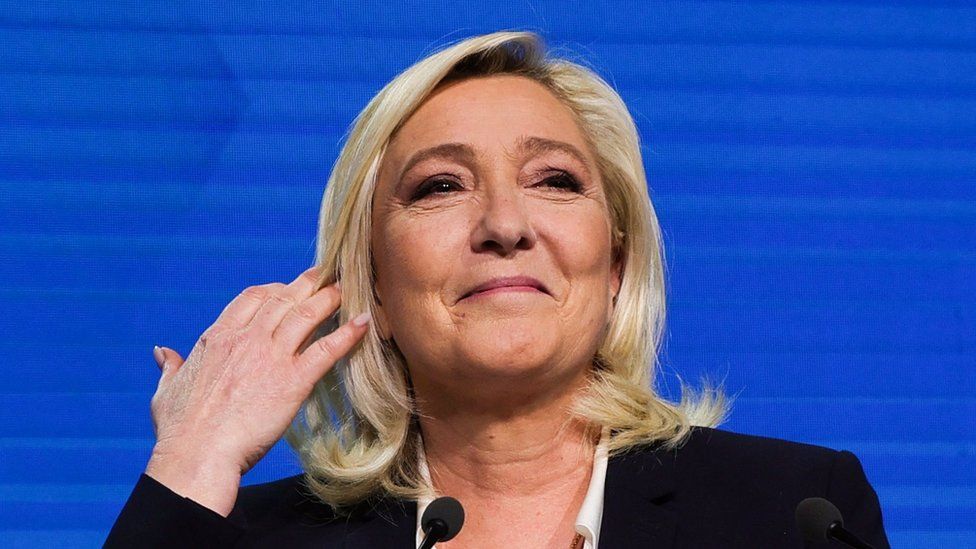 She can no longer claim the hard-right vote to herself, but in this election that has made her look more moderate.
Her more hardline rival Eric Zemmour attracted defectors from her camp, including her own niece. While he made her look less extreme on Islam and immigration, she now stands to gain his 7% of the vote.
She has crafted a consistent anti-immigration, anti-EU message and Emmanuel Macron has labelled her policies as racist.
She has in the past expressed her admiration for Russia's Vladimir Putin and relied on a Russian bank loan for her 2017 presidential campaign. She condemns his invasion of Ukraine, while warning of the risk of sanctions to the French economy.
Now 53, she has promised to halt abuse of the right to asylum, with a referendum on restricting immigration. And she wants to ban the Islamic hijab being worn in public areas.
She also seeks to turn the European Union into an alliance of nations unchallenged by EU laws and pull France out of Nato's integrated command.
Marine Le Pen wants to waive income tax for those under 30 and exempt companies from tax contributions if they raise minimum wages by 10% for many of their staff.
The opinion polls give her genuine chance of victory. The final stretch of this campaign will decide whether she can improve on 2017.