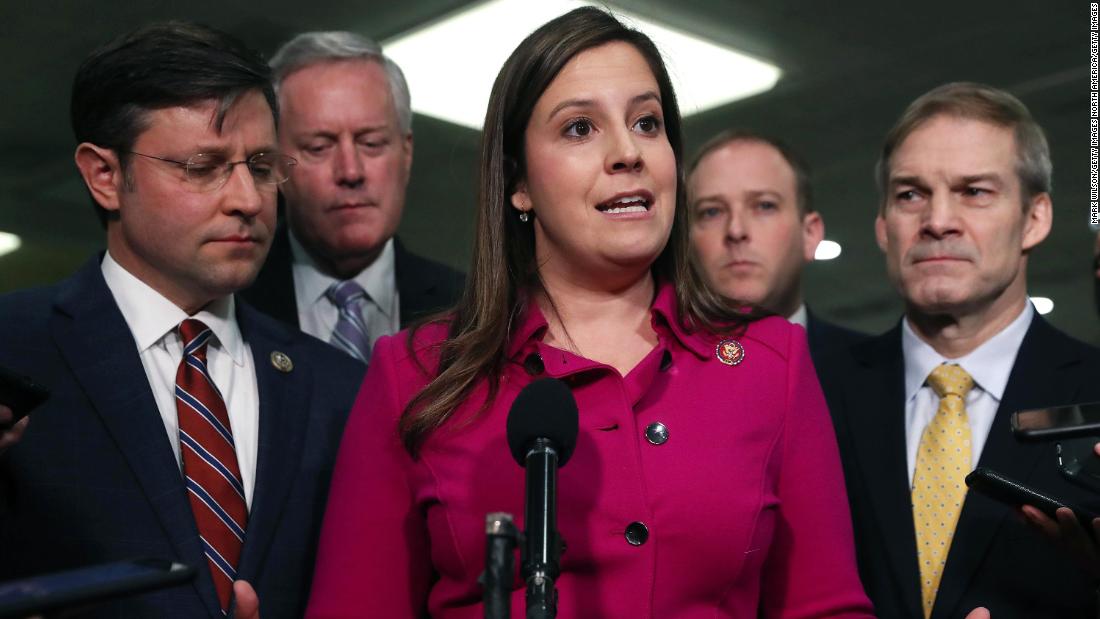 The top candidate to replace Cheney is
New York Rep. Elise Stefanik
— who promoted some of those election lies and sought to get the outcome of the election overturned.
Stefanik, whom Trump
endorsed Wednesday
for the job of House Republican conference chair, supported a lawsuit that tried to get the Supreme Court to invalidate Joe Biden's victory. On January 6, after Trump supporters stormed the Capitol, she voted to reject some of President Joe Biden's electoral votes.
Both before the riot and immediately afterward, Stefanik made false claims about the conduct of the election in some of the states Biden won. And in previous remarks, she amplified baseless claims that there were major "irregularities" with both voting and election software.
Stefanik did not match Trump's incendiary language about the election being "rigged" or "stolen." But using slightly more artful rhetoric, she aided his damaging campaign to undermine confidence in the result.
Here's a look at some of Stefanik's election-related words and actions between early December and early January. Her office declined to comment on the record for this article.
The unsuccessful lawsuit, which was filed by the attorney general of Texas, asked the court to reject the election results in Pennsylvania, Georgia, Michigan and Wisconsin, all of which were won by Biden.
Whatever its rationale, the lawsuit did seek to overturn the election.
Stefanik's wording here was crafty. Rather than declare herself that there were widespread irregularities and a lack of ballot integrity, she invoked other Americans' concerns about widespread irregularities and a lack of ballot integrity. Nonetheless, she not only repeated these baseless concerns but groundlessly suggested Americans were correct to have them.
Given how close the election was in key states, Stefanik said, "we need to make sure that every vote is counted. But we also need to highlight any of the irregularities. I have concerns about the software, the fact that Dominion software …" She trailed off, then said both Democrats and Republicans have "raised issues" about "making sure that we have the integrity of the counting process."
Stefanik didn't explain her concerns about Dominion software, nor what "issues" she was claiming Democrats had raised. Regardless, there is no basis for claims that there were issues with the software's "integrity" in the 2020 election.
In the open letter on January 6, Stefanik wrote that, in Georgia, "more than 140,000 votes came from underage, deceased and otherwise unauthorized voters — in Fulton County alone."
In the January 6 speech, Stefanik also amplified baseless allegations about ballot-counting in Michigan. She claimed, for example, that signed Michigan affidavits documented "unconstitutional irregularities" like "the illegal counting of late ballots."