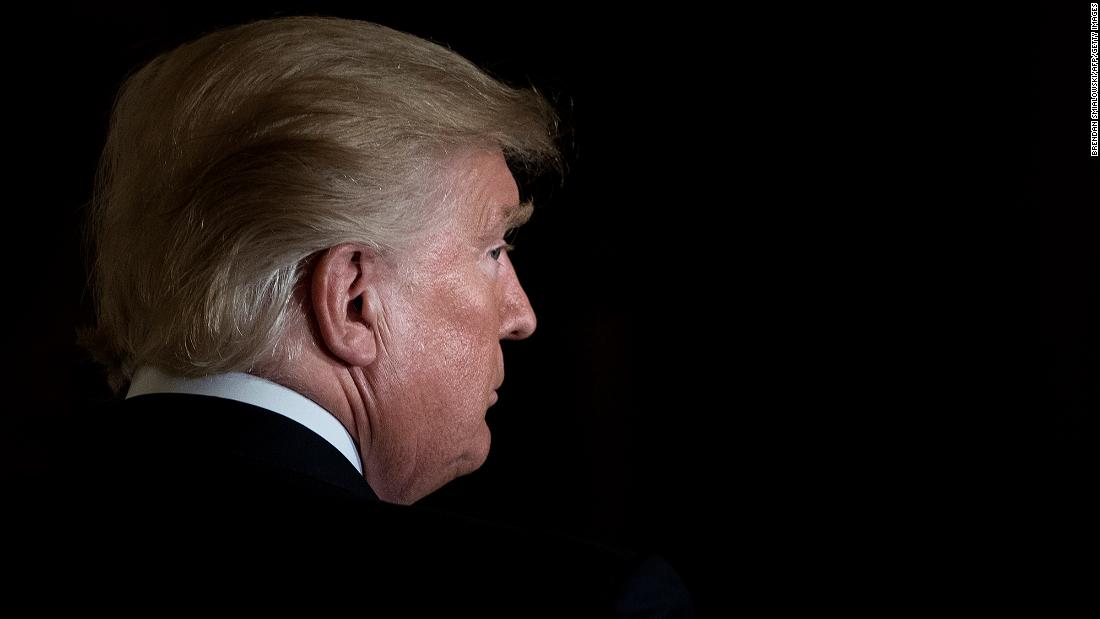 It's the idea that just won't die.
Last month, Mark Meadows
, Trump's former White House chief of staff, said that he "would love to see the gavel go from (House Speaker) Nancy Pelosi to Donald Trump. You talk about melting down — people would go crazy."
And in June, the former president himself had
this exchange
with conservative radio talk-show host Wayne Allyn Root:
ROOT: "Why not, instead of just waiting for 2024, and I'm hoping you run in 2024, but why not run in 2022 for the United States Congress, a House seat in Florida, win big, lead us to a dramatic landslide victory, taking the House by 50 seats, and then you become the speaker of the House?"
TRUMP: "You know, it's very interesting. That's so interesting. And people have said, run for the Senate, OK, run for the Senate, but you know what? Your idea might be better. It's very interesting."
Let's get two things out of the way before we go any further here:
1) Trump could be Speaker since there is no Constitutional requirement that the head of the US House actually be a member of the US House
2) Trump is not going to be Speaker.
Per point #2, why is Trump telling Wayne Allyn Root that being Speaker is "very interesting"? To answer that, you have to understand the mind of Donald Trump. He believes he can (and should) be allowed to do anything. And that he is probably the most capable person of doing whatever it is you propose to him. So, if you asked Trump if he would be interested in, say, being the next German chancellor, he would probably say that it is a "very interesting" idea. Ditto if you asked him if he wanted to be the New York Giants quarterback this weekend against the Los Angeles Chargers.
So, at some level, you just have to ignore Trump entertaining the possibility. Every indicator suggests he is planning to run for president (again) in 2024 and making a pit stop to serve as the Speaker of the House in 2023 makes zero sense as part of that plan.
What's far more interesting than what Trump says about being Speaker is the fact that a) it keeps coming up and b) who keeps raising it.
Gaetz and Meadows are closely aligned with the House Freedom Caucus, the extension of Trumpism in Congress. As is Georgia Rep. Marjorie Taylor Greene, who made headlines around Thanksgiving by leveling criticism against House Minority Leader Kevin McCarthy.
"We know that Kevin McCarthy has a problem in our conference,"
Greene told Gaetz on the latter's podcast
. (Perfect!) "He doesn't have the full support to be speaker. He doesn't have the votes that are there, because there's many of us that are very unhappy about the failure to hold Republicans accountable, while conservatives like me, Paul Gosar, and many others just constantly take the abuse by the Democrats."
And THAT is exactly why the whole "Trump for Speaker" movement matters.
Trump, in the context of the Speaker's race, is best understood as a stalking horse for the House Freedom Caucus — a tangible sign that they aren't sold on McCarthy simply ascending to the top job if and when Republicans retake the majority next November.
All of this will have an unfortunate echo for McCarthy. In 2015, following Speaker John Boehner's surprise resignation, the California Republican was widely regarded as next in line. But, Freedom Caucus members balked — and
McCarthy was forced to pull himself out of the running
, making way for Paul Ryan's time as Speaker.
"Not one to miss an opportunity, GOP presidential candidate Donald Trump suggested he was partly responsible for McCarthy's failed bid, days after he suggested McCarthy wasn't tough enough for the job.
"'They're giving me a lot of credit for that because I said you really need someone very, very, tough and very smart. Ya know smart goes with tough, I know tough people that aren't smart that's the worst. We need smart, we need tough, we need the whole package,' Trump said at a campaign stop Thursday in Las Vegas."
While McCarthy has spent the intervening years cozying up to Trump — he
visited
Trump at Mar-a-Lago just weeks after the January 6 riot at the US Capitol — it appears as though he has not won over the strongest Trumpists in Congress. Which, just as it was six years ago, is a major problem for McCarthy's chances of being Speaker.
Know who has to be loving the Trump as stalking horse stuff? None other than House Minority Whip Steve Scalise. Scalise can keep his own ambitions under wraps for the moment all while knowing for certain that the anti-McCarthy churn among some within the Republican conference will continue on. It's like sitting just off the shoulder of the guy leading the race, drafting off of him and waiting for your chance to strike.
It's possible, of course, that McCarthy still winds up as Speaker. As of today, he has to be considered the favorite. But, the ground under him is getting less firm with every passing day.