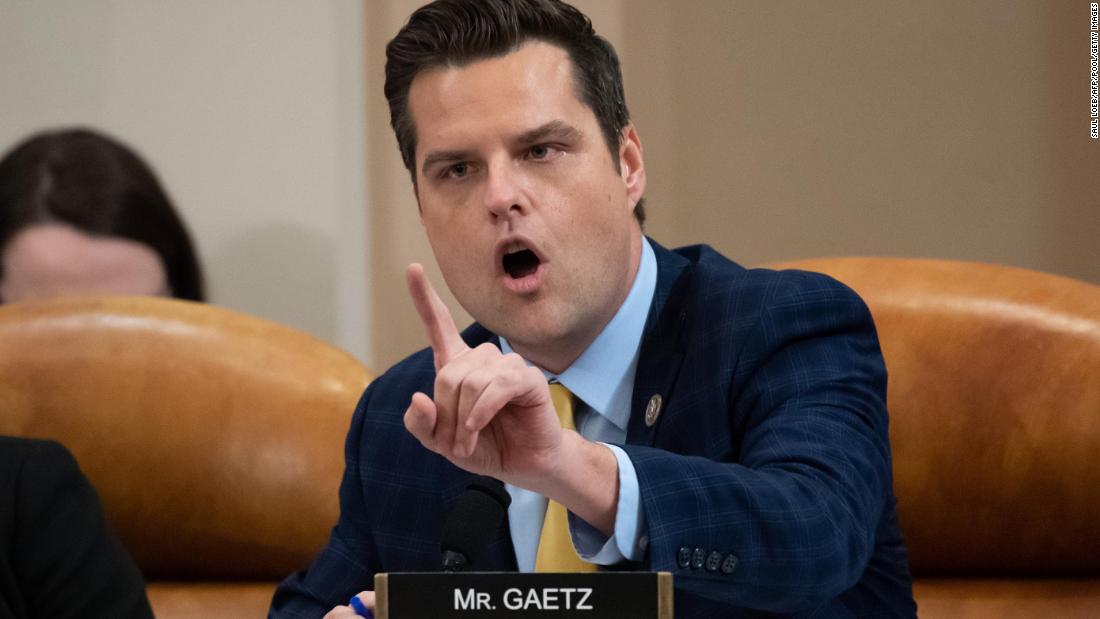 Those days are gone. Now, many newly elected Republican House members see a seat in Congress as a means to a more lucrative end — a chance to build their, uh, brand, widen their fundraising base and raise their profile in order to get the real prize: A well-paying gig on a conservative media network.
The Ur example of this trend comes in the form of a brassy and bouffanted Florida congressman named Matt Gaetz.
Since his arrival in Congress in 2017, Gaetz has shown far more interest and passion in appearing on Fox News to dunk on Democrats than in actually trying to, you know, legislate.
To the end, he's best known for his antics —
wearing a gas mask on the House floor
to make a mockery of the concerns about the spread of Covid-19 last spring — than he is for actually doing his job of representing the people of northwest Florida.
And so, it comes as no surprise that Gaetz,
according to Axios
, is seriously contemplating leaving Congress entirely for an on-air gig on Newsmax, the conservative cable channel owned by Chris Ruddy, a longtime ally of former President Donald Trump.
"Gaetz has told some of his allies he's interested in becoming a media personality, and floated taking a role at Newsmax,"
reported Alayna Treene
on Tuesday.
Close Gaetz watchers will remember that just a few months ago, Gaetz told former Trump adviser Steve Bannon that he would be willing to quit Congress to represent the former President in his Senate impeachment trial.
"I love my district. I love representing them,"
Gaetz said
. "But I view this cancellation of the Trump presidency and the Trump movement as one of the major risks to my people, both in my district and all throughout this great country."
Whether or not Gaetz leaves Congress for Newsmax or some other opportunity, it's become quite clear that he has lost interest in doing the whole "Congress thing" — if he ever had any interest in it to begin with.
And he is far from alone. There are a whole group of recently elected GOPers — Marjorie Taylor Greene, Lauren Boebert, Madison Cawthorn — who are of the same mindset as Gaetz. They view their seats in Congress as launching pads for broader careers in conservative media.
The Point: While this trend existed before the country elected a reality TV star as president in 2016, there's no question that Donald Trump's ascension has poured jet fuel on it.