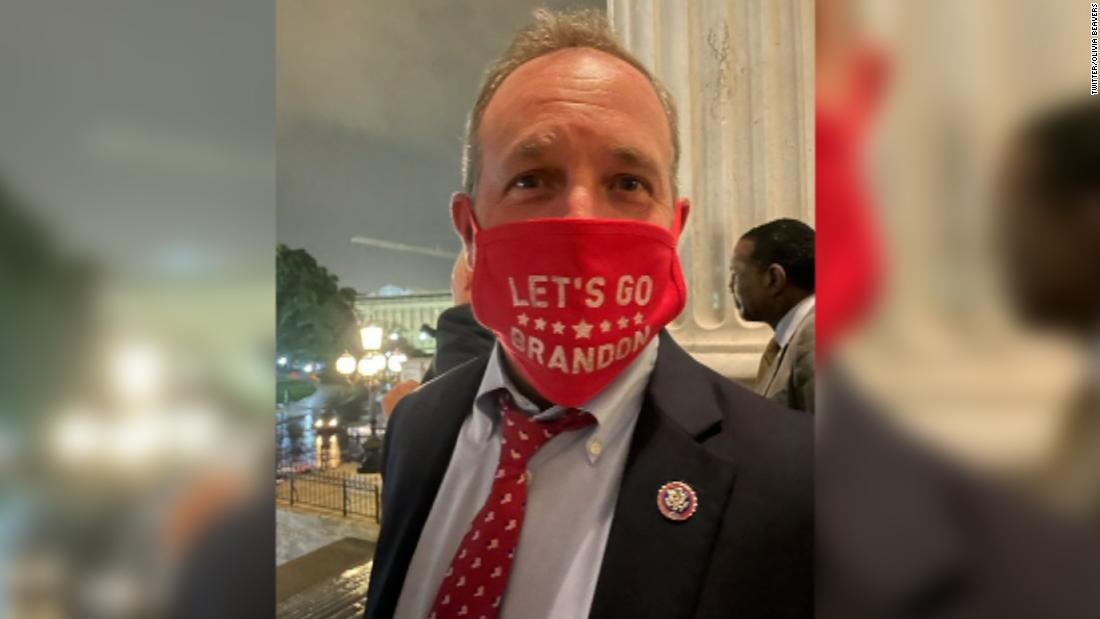 "The Associated Press, which had a reporter on board the flight, first reported that a pilot of a Friday flight from Houston to Albuquerque ended his typical greeting to passengers with the phrase "Let's go Brandon," which has become right-wing code for 'F**k Joe Biden.' The AP report said passengers responded with audible gasps."
If you follow Donald Trump Jr. or any of the other lesser luminaries in the orbit of former President Donald Trump, you have seen their social media feeds full of these mock "Let's Go Brandon" cheers of late. Florida Rep. Bill Posey
ended a speech
on the House floor late last month with the phrase. South Carolina Rep. Jeff Duncan
wore a mask
on the House floor emblazoned with it as well. Texas Sen. Ted Cruz has said it's "one of the funniest things I've ever seen." There's now a "Let's Go Brandon" song and a "Let's Go Brandon" dance.
So, how the heck did we get here?
The origin of the chant — and it's not-so-hidden meaning — appears to be a NASCAR race in Alabama in early October. Interviewing the winner — a driver named Brandon Brown — a reporter for NBC Sports referred to chants coming from the crowd.
"As you can hear the chants from the crowd," the reporter said to Brown "'Let's go Brandon.'"
Except that's not what the crowd was chanting. (You can listen to it yourself
here
.)
Trumpworld took the misunderstanding from the reporter as evidence of the "fake news" media and its unwillingness to own up to the anti-Biden sentiment in the country. "The clip is surreal,"
Cruz told a Trump-loving podcaster last month
. "Listening to the NBC reporter say, 'Look, they're chanting, "Let's go Brandon.'" It captures everything about fake news all at once." (It's unclear — at least to me — that the reporter willfully misunderstood the chant.)
According to Google Trends, it took roughly a week after the Brandon Brown interview for the phrase to take off — and it has since gone into the internet stratosphere.
The rapid rise in popularity of the phrase amounts to a sort of verbal secret handshake, a way for those deeply opposed to Joe Biden's presidency to identify other members of their tribe. It's become the PG-rated version of the expletive-laced chant heard at Talladega (and lots of other sporting events) over the past few months.
"'Let's go, Brandon' has exploded on the right, arming cheeky conservatives with a deceptively innocuous cri de coeur that takes sarcastic swings at President Biden and the mainstream media without running afoul of technology censors."
This — like so many other politically themed memes and internet ephemera (
"Joe the Plumber,"
anyone?) — will almost certainly fade as rapidly as it has become ubiquitous.
But, for now, "Let's go Brandon" is having its moment.