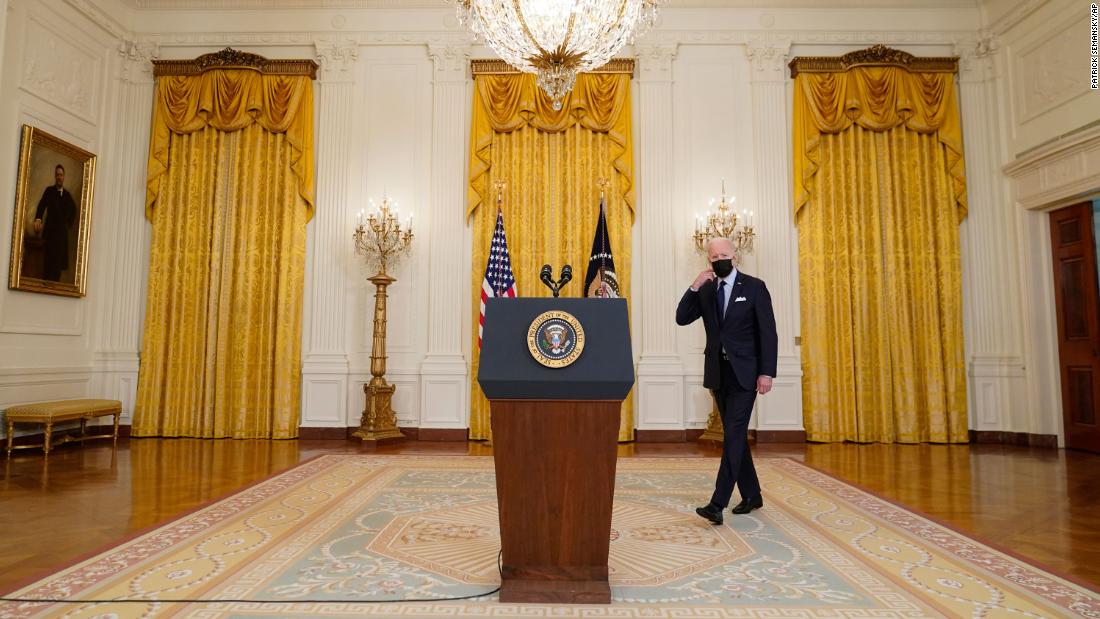 A version of this story appeared in CNN's What Matters newsletter. To get it in your inbox, sign up for free
here
.
CNN's Capitol Hill team
reports
that the ultimate outcome of these talks could help define Biden's first term since 2021 remains a crucial period for policymaking, while 2022 will be consumed with both parties focused on winning the midterms, a recipe unlikely to yield much legislative success.
Here's where things stand:
Infrastructure
Biden is slated to host his first meeting with Republican and Democratic leadership from the House and Senate since taking office on May 12 at the White House. The talks are also expected to intensify as lawmakers return from recess and Capito is scheduled to visit the President once again.
The focus?
Finding out whether Republicans and Democrats could cut a more modest deal on infrastructure and then come back later using a
special budget tool known as reconciliation
to pass some of Biden's more ambitious reforms to paid family leave and extending the expanded child tax credit.
Police reform
Serious bipartisan talks over legislation to overhaul policing between Republican Sen. Tim Scott of South Carolina and Democratic Sen. Cory Booker of New Jersey and Democratic Rep. Karen Bass of California are also expected to continue this week as the lawmakers leading an effort to broker a deal say they are making progress, despite thorny unresolved issues.
Tentative agreement reached on some key issues.
A bipartisan group of lawmakers working on legislative efforts to overhaul policing appear to be
nearing an agreement
to set federal standards for:
No-knock warrants.
A ban chokeholds except in life-threatening situations.
Limits on equipment the Defense Department can send to state and local police departments.
Two major issues remain. One of them is qualified immunity, which protects police officers from civil lawsuits. The other includes Section 242, a part of federal law which sets the standard for criminally prosecuting police officers.
House Majority Whip urges compromise.
South Carolina Democratic Rep. James Clyburn said Democrats
should not delay new policing reform legislation
even if a provision on ending civil lawsuit protections currently afforded to police officers is not included, arguing that the party can push to end qualified immunity at another time.
Election overhaul and gun legislation
In the Senate, Democrats also want to take action on a sweeping voting bill and gun legislation, though neither priority is on track to have the votes to overcome a filibuster and pass out of the chamber.
Voting bill. While it won't have the 60 votes to pass out of the Senate, taking up the voting legislation will give Democrats an opportunity to tout the legislation, and will give some more liberal-leaning lawmakers the chance to once again argue that the filibuster should be eliminated.
Gun legislation. It also looks increasingly unlikely that a bipartisan deal will be reached on gun legislation, an issue which received renewed focus in the wake of recent shootings.
Senate Majority Leader Chuck Schumer has indicated he plans to move a House-passed gun bill to the Senate floor, though he has continued to hold out hope for the possibility of bipartisan action.
Cheney's impending ouster looms large
The bipartisan outreach on all of these issues will play out against the backdrop of escalating division in the GOP as House Republicans prepare to oust Wyoming
Rep. Liz Cheney
from her No. 3 leadership post — and potentially replace her with Rep. Elise Stefanik.
The vote on the position could come as early as Wednesday.
Kevin McCarthy confirms he's backing Stefanik.
The House Minority Leader confirmed on Sunday that he backs Stefanik for the role of
House Republican conference chair
.
"Yes, I do," McCarthy told Fox News' Maria Bartiromo when asked if he supports the New York Republican for the No. 3 role in the House Republican conference. Stefanik thanked McCarthy for his support in a tweet later Sunday.
Short term solution?
Stefanik has signaled to some of her colleagues that if she replaces Cheney, she plans to stay in leadership and as chair of the House GOP Conference only through 2022, wanting to pursue the top GOP job on the House Education and Labor Committee next Congress,
according to a source with direct knowledge of the talks
.
It's all about loyalty to Trump.
As
CNN's Maeve Reston writes
, the drive to swap out Cheney for Stefanik, who has a far less conservative voting record but the golden calling card of loyalty to the former President, demonstrates that the GOP now values political expediency over the willingness to stand on principle in the post-Trump era.
Charting our Covid-19 progress
About 113 million people, or
at least a third
of the population, have been fully vaccinated, per CDC data. And about 45.6% of the population, or 151 million people, have received at least one dose of a vaccine.
That's still well short of the 70-85% range that experts like Dr. Anthony Fauci have estimated the US needs to reach to achieve herd immunity. But the progress is real, and the waning US cases and death numbers reflect that.
What's more, our vaccine progress has
provided three key things
that can help address ongoing hesitancy, emergency medical physician Dr. Anand Swaminathan told CNN.
"People were worried about safety, we now have hundreds of millions of doses out there, so we have great data on safety."
"People were worried about efficacy," he said, adding there is now real-world data showing how effective the vaccines are.
And finally, Swaminathan said, some Americans were concerned that the vaccines didn't have approval from the Food and Drug Administration and had only received emergency use authorization. But Pfizer/BioNTech announced Friday they have initiated an application to the agency for full FDA approval of their vaccine for people 16 and older.
What else?
GOP ready to kill the $300 pandemic unemployment boost. As the country seeks to emerge from the outbreak that has left millions of Americans out of work, a growing chorus of GOP officials and business owners say that it's time to end the historic enhancement in order to push more people to rejoin the labor force.
The federal benefits not only include an extra $300 in unemployment payments, but also payments for freelancers, independent contractors, certain people affected by the virus and those who've run out of their regular state benefits.
Utah GOP governor defends push to end enhanced unemployment.
Spencer Cox on Sunday defended Republicans' push to
end enhanced unemployment
, saying that although some families continue to struggle amid the pandemic's economic fallout, the benefit must be rolled back "at some point."
Cyberattack forces major US fuel pipeline to shut down.
A cyberattack forced the temporary shut down of
one of the US' largest pipelines
Friday, highlighting already heightened concerns over the vulnerabilities in the nation's critical infrastructure.
Caitlyn Jenner says she favors path to citizenship for California immigrants.
In an interview with CNN's Dana Bash that will air on "Anderson Cooper 360" at 8 p.m. ET Monday night, Jenner said that she
decided to challenge California Gov. Gavin Newsom
in the all-but-certain recall election after watching the crisis that has unfolded at the southern border.