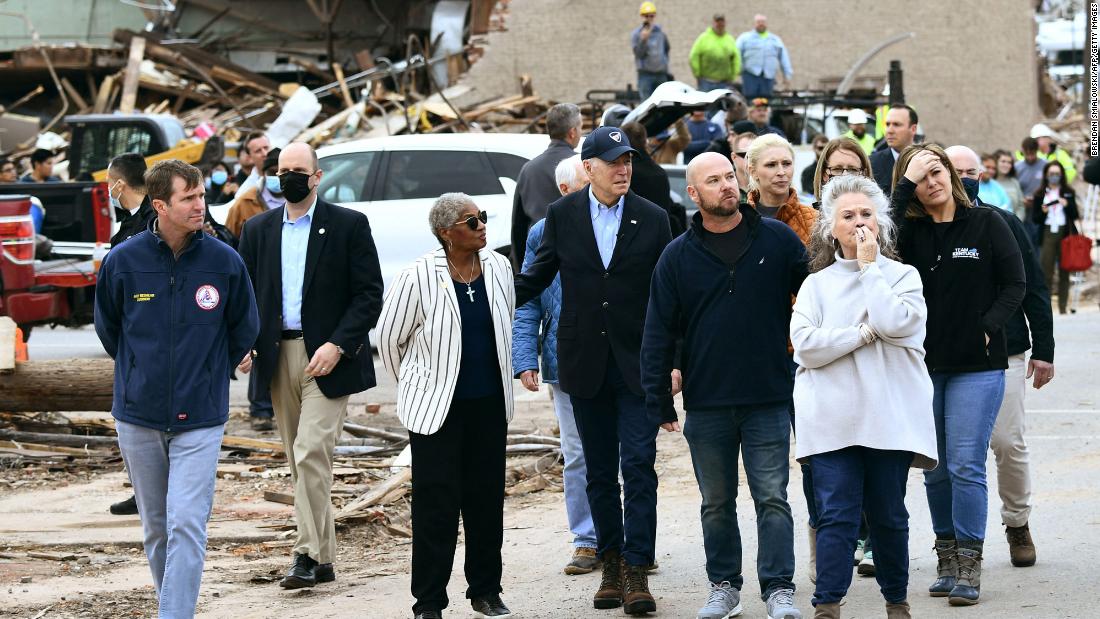 But on Wednesday, Comer — who represents Kentucky's 1st District and is the top Republican on the House Committee on Oversight and Reform — accompanied President Joe Biden throughout his trip to Kentucky to survey damage in the wake of deadly tornadoes.
Comer's congressional district includes Mayfield and Dawson Springs — two towns the President visited where tornadoes had ripped across neighborhoods, destroying homes and businesses.
The Republican congressman's appearance next to a Democratic President marked a rare moment of putting politics aside. The moment was propelled by tragedy, with at least 71 people dead in the state in the wake of last weekend's extreme weather.
During his speech in Dawson Springs, Biden briefly thanked the congressman for giving him a "passport" into his district.
Biden also reaffirmed his frequent call for unity during the trip, saying, "People just come out of nowhere to help as a community, and that's what it's supposed to be. That's what America's supposed to be."
"There's no red tornadoes or blue tornadoes. There's no red states or blue states when this stuff starts to happen. And I think, at least in my experience, it either brings people together or really knocks them apart," he continued.
CNN has asked Comer's office for comment on the trip.
Kentucky's entire congressional delegation, which has only one Democrat, was invited to travel with the President, according to the White House.
The district Comer represents heavily leans toward Republicans. Voters in the state chose Trump in the 2020 presidential race and Comer's district has been represented by Republican members of Congress for more than 25 years.
Tragedy, unfortunately, can be a rare unifying force in politics. And though comparatively trivial beside death and destruction, those moments of comity can be politically consequential.
Notably, then-New Jersey Republican Gov. Chris Christie commended then-President Barack Obama, a Democrat, in 2012 following Hurricane Sandy.
Christie's praise, along with photos of Obama placing his hand on the governor's shoulder, became a political cudgel for opponents within his own party, including its eventual leader.
During a presidential rally in 2015, then-GOP presidential candidate Donald Trump said he thought his rival was "going to vote for Obama" when he saw the image.
"I don't call it a hug, I call it a hug mentally. It was like — it was unbelievable," Trump continued. "He was like a little boy: 'Oh, I'm with the President.' Remember he flew in the helicopter and he was all excited to be in the helicopter? I said, 'I would have put you in my helicopter. It's much nicer.' "
"I wouldn't say it's hard to prepare, I would say the President just wants to send a clear message and stand by people in these communities as they're going through this difficult time," she said.