Prime Minister Boris Johnson has said "we will not rest until justice is done", amid further evidence of continued atrocities in Ukraine.
Distressing images of civilian bodies in the streets of Bucha, near Kyiv, have led to international outrage over Russia's actions.
Foreign Secretary Liz Truss has called for Russia to be suspended from the United Nations' Human Rights Council.
She has also pushed for tougher international sanctions on Russia.
In a news conference in the Polish capital Warsaw, Ms Truss said: "What we have seen in the streets of Irpin and Bucha are scenes that we will never forget. We have seen butchery, evidence of rape and sexual violence, as well as the indiscriminate killing of civilians."
She added: "We are clear, that after these appalling crimes, Russia has no place on the Human Rights Council".
A senior Westminster source has told the BBC the government is considering further action against Russian soldiers as individuals.
Officials are looking at further sanctions that could target captains, majors and colonels in the Russian military.
It is understood this additional pressure could also include looking at ways to hold Russian soldiers legally accountable.
Mr Johnson has said the UK "will not stand by whilst this indiscriminate and unforgivable slaughter takes place".
He added: "We are working to ensure those responsible are held to account. We will not rest until justice is done."
Ukrainian authorities said the bodies of 410 civilians have been found in the areas around Kyiv so far.
Russia, without evidence, has said the photos and videos were "a staged performance" by Ukraine.
Ms Truss reiterated the prime minister's comments, saying that the UK "will not rest until these criminals are brought to justice".
She said "it's very clear war crimes have taken place" and the UK is taking "the maximum approach on sanctions, nothing is off the table".
Ms Truss added that Nato needs to use a meeting this week to "step up support" and sanctions. She said these measures should include more countries banning Russian ships from ports, sanctions on more banks and other sectors.
In addition to this, she said countries should set out a "clear timetable" for eliminating Russia energy use.


War in Ukraine: More coverage


Ms Truss met with Ukraine's Foreign Secretary Dmytro Kuleba in Poland ahead of key G7 and Nato talks.
Also speaking at the news conference in Warsaw, Mr Kuleba said: "What you have seen, the horrors that we have seen in Bucha, are just the tip of the iceberg of all the crimes that have been committed by the Russian army in the territory of Ukraine so far."
The foreign secretary will also hold talks with her Polish counterpart, Zbigniew Rau, on Tuesday. She has pledged a £10m civil society fund for Ukraine, including support for organisations dealing with sexual violence, following reports of Russian forces sexually assaulting people in Ukraine, as a way of terrorising the population.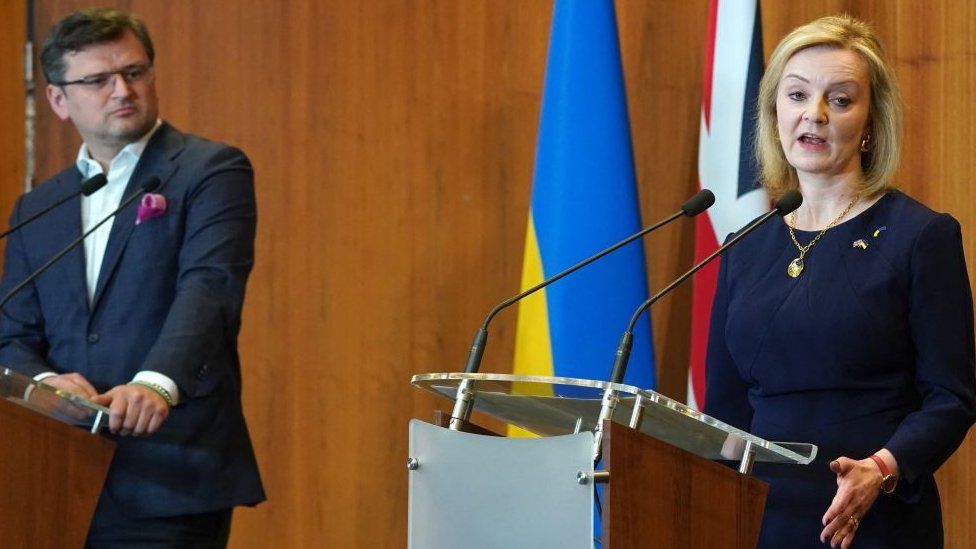 Ms Truss has said Russia's President Vladimir Putin "is yet to show he is serious about diplomacy". She said "a tough approach from the UK and our allies is vital to strengthen Ukraine's hand in negotiations".
She added the UK would do more "to ramp up the pressure" on Russia and "keep pushing others to do more".
Ukraine has accused Russia of "deliberate massacre", but Russia has crticised "a staged provocation" by Ukraine. The Kremlin claims the evidence, seen by the BBC and several news outlets, is inaccurate on three grounds:
The "staged video" shows "fake dead bodies" in Bucha
The bodies that are dead have "not stiffened"
"Not a single local resident has suffered from any violent action"
On Sunday, Mr Johnson said Russia's "despicable attacks" on innocent Ukrainian civilians in Bucha and Irpin were "yet more evidence" of war crimes.
US President Joe Biden has repeatedly called Mr Putin a war criminal and has recently said he should face a trial over the killings in Bucha.
Mr Johnson spoke to Ukrainian President Volodymyr Zelensky over the weekend. Following their conversation on Saturday evening, Mr Zelensky said there would be a "new package" of "very, very tangible support".