Russian President Vladimir Putin will visit Iran on Tuesday in just his second foreign trip since he launched the invasion of Ukraine in February.
Mr Putin will meet Iranian Supreme Leader Ayatollah Ali Khamenei and Turkish President Recep Tayyip Erdogan.
Grain exports, Syria and Ukraine will be discussed in Tehran, a Turkish official said.
The Russian leader has limited his international visits to former Soviet states since war broke out in Ukraine.
In June, Mr Putin made his first international trip since February when he visited Tajikistan and Turkmenistan, both former members of the USSR now led by authoritarian rulers and Russian allies.
Tuesday's visit will offer Mr Putin the opportunity to deepen ties with Iran, one of Moscow's few remaining international allies and a fellow target of Western economic sanctions.
"The contact with Khamenei is very important," Yuri Ushakov, Mr Putin's top foreign policy adviser, told a media briefing on Monday. "A trusting dialogue has developed between them on the most important issues on the bilateral and international agenda."



Invading your neighbour, a sovereign independent country, tends to lose you friends.
And Russia's lost plenty after invading Ukraine. In the West Moscow has achieved pariah status.
But the Kremlin is keen to show that international sanctions have failed to isolate Russia, the world's largest country, and that some of its friends are sticking around. Like Turkey and Iran.
Russia will use the three-way summit on Syria to try to demonstrate it retains powerful allies and geo-political influence.
But we're not talking BFF (Best Friends Forever). Turkey and Iran are also Russia's rivals. Turkey and Russia are on opposing sides in Syria and in Libya; they are competing for influence in the South Caucasus; Turkish combat drones have been supporting the Ukrainian military. As for Iran, it's competing with Russia in global energy markets.
True, Russia, Turkey and Iran do have some common interests. But that is no guarantee of long-lasting friendship


Turkey and Russia have backed opposing sides in the Syrian civil war and have been searching for ways to reduce the violence in recent months.
But the meeting comes amid Turkish threats to launch a fresh offensive in northern Syria against US-backed Kurdish militants, a move which both Iran and Russia oppose. The operation is part of Mr Erdogan's plans to create a 30km (20 mile) safe zone along Turkey's border with Syria.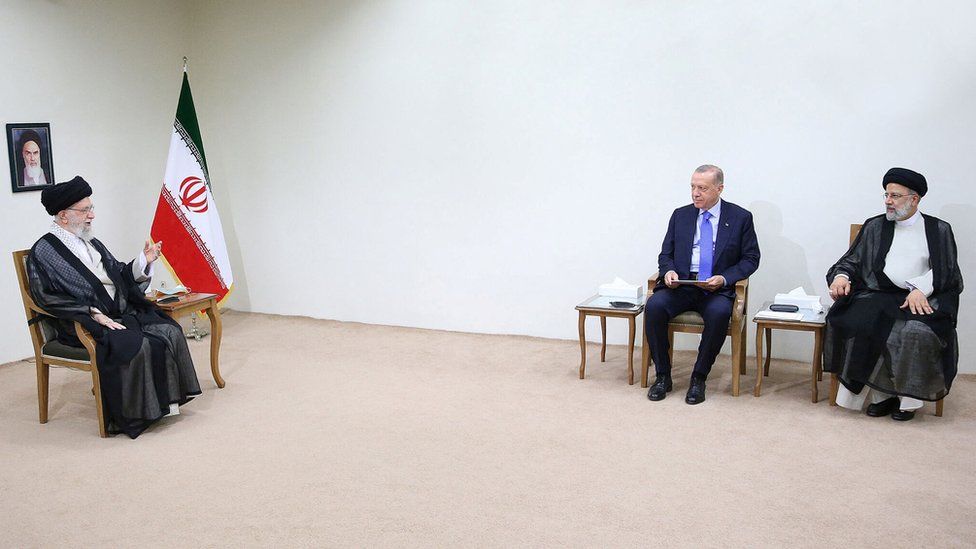 Ankara has refused to impose sanctions on Moscow since Mr Putin launched his invasion of Ukraine on 24 February, with Mr Erdogan's government seeking to play the role of mediator.
Last week, Turkey's defence minister said both sides had agreed on ways to ensure the safety of shipping routes for grain ships.
"The issue of Ukrainian grain shipment will be discussed with Erdogan," Mr Ushakov said. "We are ready to continue work on this track."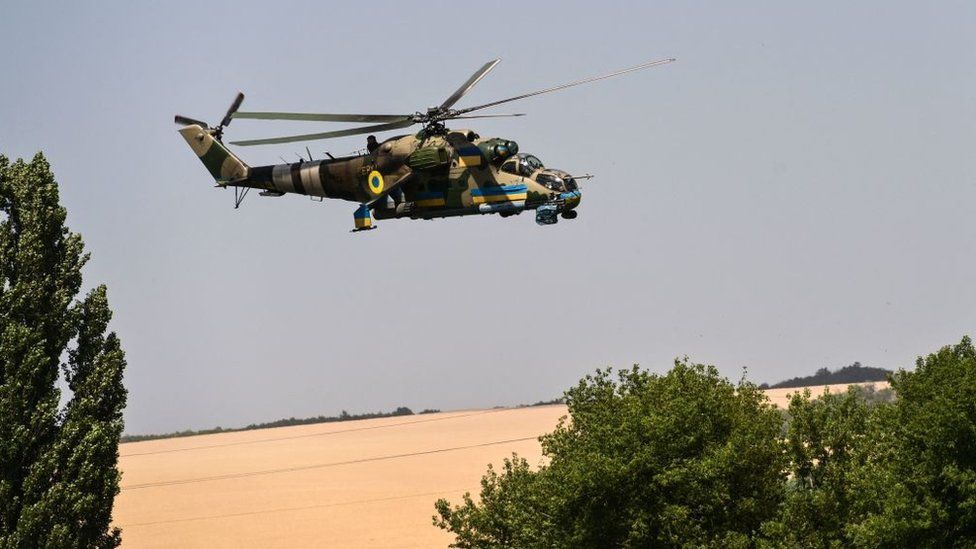 But the talks come as local officials and farmers near the front line of the conflict accused Russia of deliberately shelling grain fields.
He said Russian forces had been "shelling the fields, agricultural machinery, and grain sheds" and said that many farmers had "become victims of such attacks and received shrapnel injuries".
"Professional firefighters from the city of Mykolaiv are afraid to go, because it is very dangerous," he added. "Many fires are extinguished by our own efforts. But now the shelling has increased."