In a picturesque resort town on the northern edge of Ukraine's Donbas region, people can hear the shelling coming closer. The Russians are just five miles to the north.
Sviatohirsk was once a staple of the tourist trail but now it is just another place in the Donbas where people flee the fighting. Most of its permanent residents have themselves fled, fearing the war will not stop its ruthless advance here.
It was famed for its historic Russian Orthodox church and monastery, set amid the wooded Holy Mountains of the Donbas. That monastery has been damaged by shrapnel from a Russian air strike that hit a target nearby. There is now a gaping hole in the church spire.
Just to the north is the city of Izyum where there is already fierce fighting. The residents who had fled Izyum told us they had been bombed day and night, been without running water and electricity for weeks. They also said there were bodies on the streets.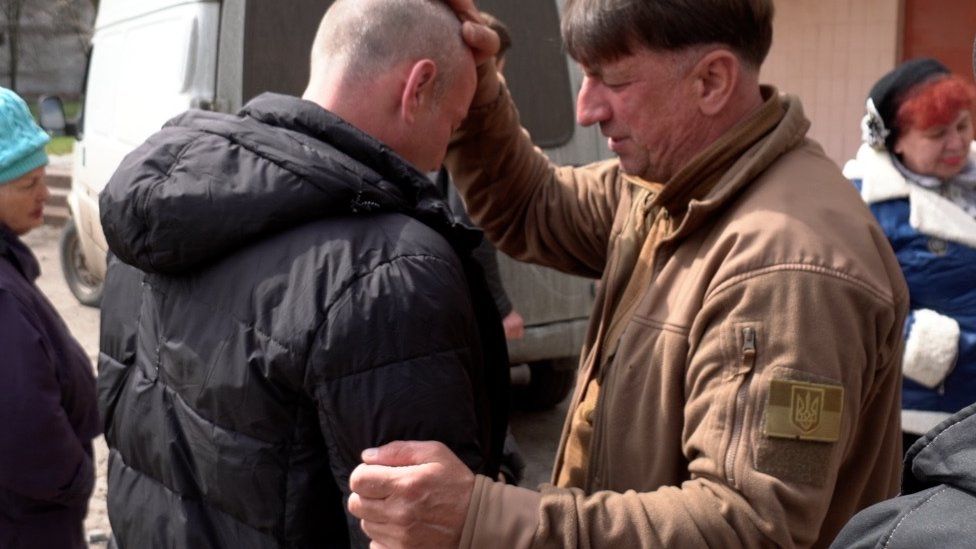 "Everyone is worried," the town's mayor, Vladimir, tells me.
He says those who have remained regularly call to check he's not leaving. He is not. He is staying put and organising food parcels for the town's dwindling population. These are people who are tired, hungry and scared, too scared sometimes to apportion any blame on Russia.
"I will not talk about it," one woman tells me, "because we still have to go home."
Russia is open about the fact that its renewed focus in the war will be in Ukraine's east, the Donbas. The Russian offensive here is coming from three directions – from the north, south and the east.
But the landscape of the town that so charms its visitors also offers some kind of protection to its terrified residents. Unlike most of the Donbas region, which is largely flat open landscape, Sviatohirsk is set among hills and forests – providing some natural defences – making it harder for an army to manoeuvre with artillery and tanks.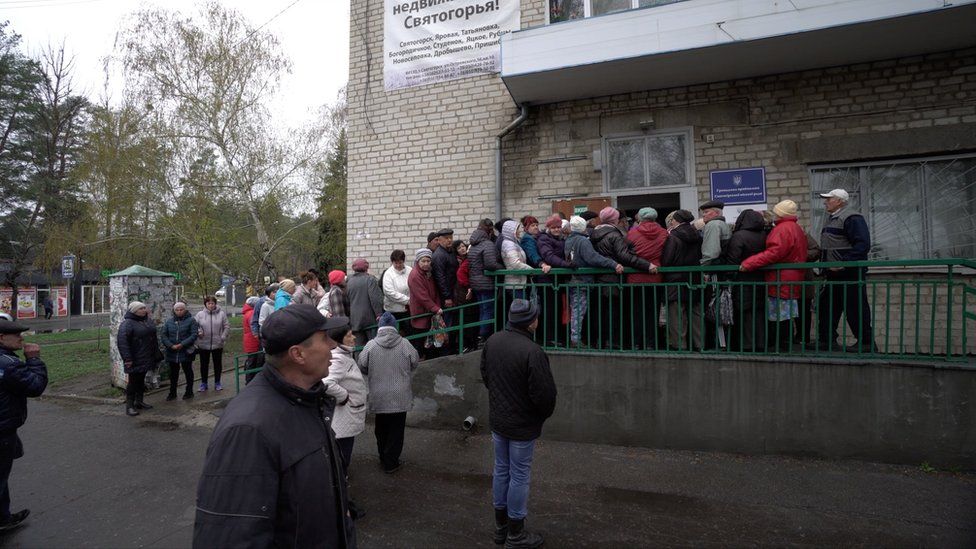 The residents who have stayed behind now rub shoulders with soldiers getting a brief respite from the fighting. They grab a coffee from one of the few shops left open. The military's not allowed to speak to us without permission.
One man proudly tells us he was trained by British troops before the latest war started. He's confident that Ukraine can win this war.
But I meet another soldier who sounds less assured. The unrelenting Russian bombardment is taking its toll. Another soldier tells us that the Russians have been targeting their positions with white phosphorous shells – which burn into the flesh.
There is now a real danger that Russia may soon try to encircle Ukrainian forces in the region who have been fighting Russian-backed separatist in the region since 2014. Ukrainian troops there are among the most battle hardened in the Ukrainian Army. But they, too, are worried that their supply lines could be cut off as Russian forces push in from three different directions.
The unit we saw look well trained and well equipped. Their automatic weapons were fitted with suppressors, which are silencers. An officer who agreed to be interviewed says his son, too, was trained – by US and British forces.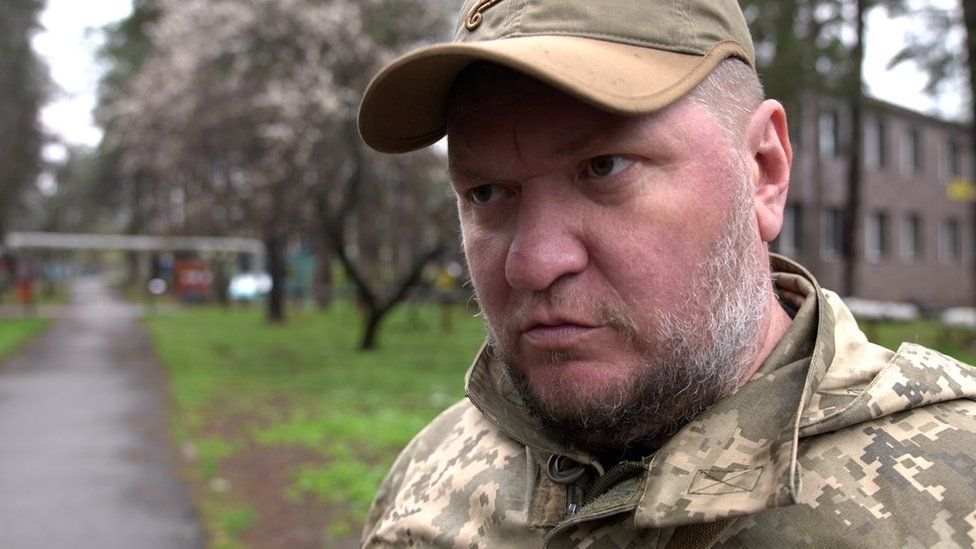 Volodomyr told us that the Ukrainian Army is now much better prepared than the one of 2014 – when Russian backed separatists took over part of the Donbas.
"If this war had happened then, I don't know how it would end, but now we know the Russian aggressors will get what they deserve."
Volodomyr says the Russians are using similar tactics they have used elsewhere in Ukraine – "creating panic among the local population". He says "it's inhuman".
It is now happening right across the Donbas.


War in Ukraine: More coverage


From the distance we could see and hear the city of Severodonetsk being pounded. We tried to enter but had to turn back when we heard the whistle of a shell landing nearby. It was a similar scene further south in the city of Avdiivka – where the remnants of a once bustling industrial city were now hiding in bunkers.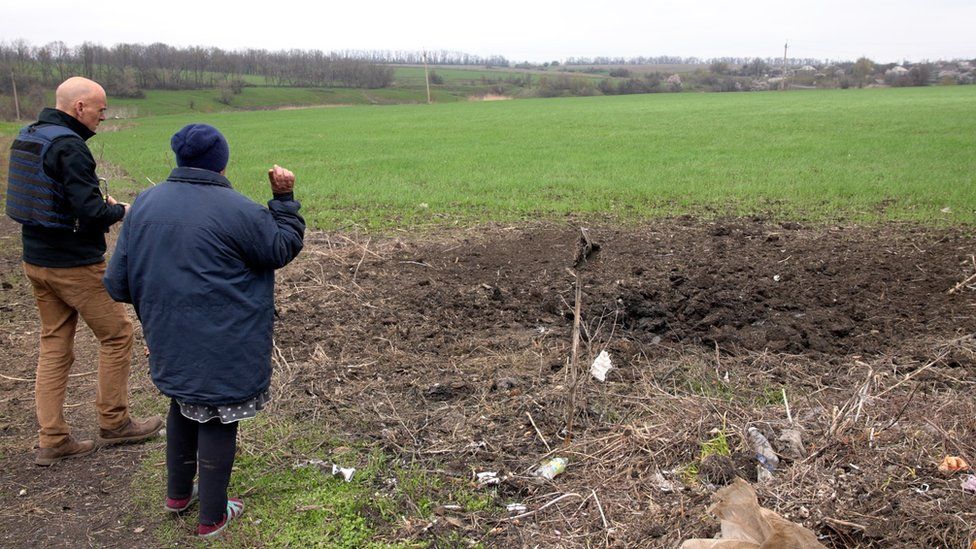 Even a nearby village hadn't been spared. Sixty-year-old Gallina showed us the crater which had landed in her garden – blowing out the windows of her small home the night before. Inside, her granddaughter, Anastasia, was cowering under a table – still too frightened to come out.
Gallina told me "there's nothing funny about this situation".
"We live here like cannon fodder," she added.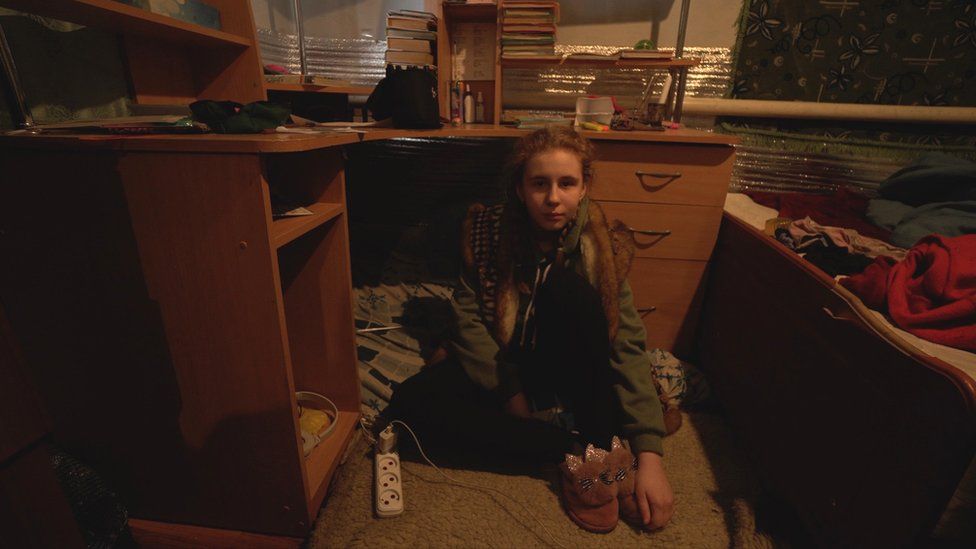 Ukrainian forces are trying to slow any Russian advance – as they did in Kyiv. One soldier shows us drone footage of a bridge they recently blew up – to the north of Izyum. It brings a column of military trucks to a standstill. But more will be coming.
What is happening in the Donbas now – the incessant, unrelenting shelling – is the prelude to the long expected offensive. Russia is trying to weaken Ukraine's defences and its people's resolve.
There have been also Russian probing attacks across the frontline. Most have been so far repelled by Ukraine forces. But they know more will be coming.
Russia is still massing and reconstituting its battered units. There are still questions as to whether Russian forces will perform any better in the east than they did outside the capital Kyiv – where they were forced to retreat.
The UK's Ministry of Defence believes Russian commanders will also be concerned by the time it is taking them to subdue the port city of Mariupol – which has diverted men and materiel – slowing the Russian advance elsewhere.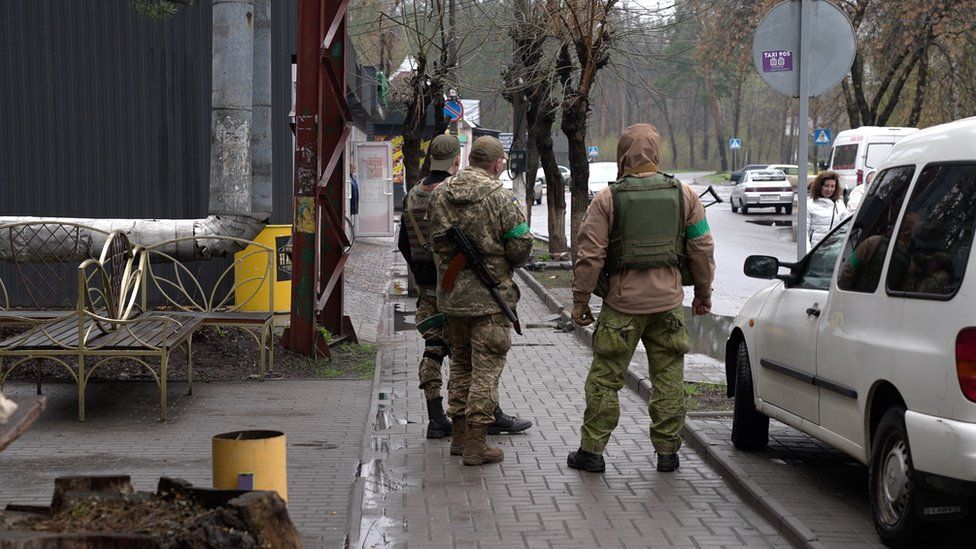 Ukraine still fears worse is to come. That's why President Volodymyr Zelensky has once again been calling for more weapons.
Until recently Western support has been limited to "defensive weapons" – such as anti-tank and anti-aircraft missiles. But some countries are now sending heavier weapons.
We have seen some of it – such as armoured vehicles – arrive on the frontline. The Czech Republic is providing Ukraine with a dozen T-72 tanks. The latest batch of US military aid will include 18 howitzers.
But that will probably not be enough to tip to balance overwhelmingly in favour of Ukraine.
Back in Sviatohirsk, Mayor Vladimir says he is still holding out hope that this conflict can be resolved through diplomacy.
"All this is terrible," he says. "This destruction has no future."