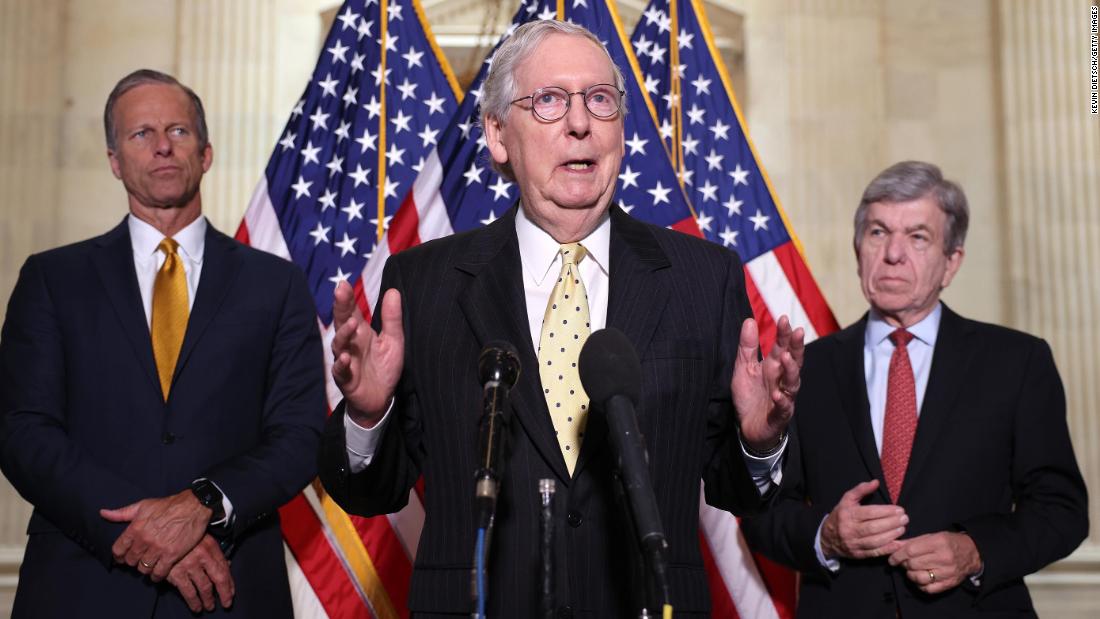 The House of Representatives voted to establish an independent, bipartisan commission on Wednesday, but the bill still has a cliffhanger path ahead as supporters seek votes of 10 Republican senators needed to usher it into law. It remains an open, if perplexing, question if Republican senators will stand in the way of an investigation into an armed attack that sent them fleeing for safety.
The revolt of 35 House Republicans
against their leader, California Rep. Kevin McCarthy — who pushed strongly for the bill's defeat — represents the strongest rebuke yet of the former President from his own party ranks, far more than the 10 Republicans who voted to impeach Trump over the Capitol mob scene. The surprising size of the Republican vote for the commission may indicate the politics of the issue are not yet set in stone and could give some Republicans pause as they consider their position on investigating the insurrection.
"People said we would not get more than 20 votes in the House from Republicans," said House Homeland Security Chairman Bennie Thompson of Mississippi, who negotiated the
compromise bill with a GOP colleague.
"We got 35, I am optimistic on the Senate side," Thompson said on CNN's "Erin Burnett OutFront."
John Kasich, the former Republican governor of Ohio, wondered tentatively on CNN's "The Situation Room with Wolf Blitzer" whether the size of the GOP vote in favor of a commission was the "beginning of the breaking of the dam" against Trump.
"It is a big blow to the leadership that they lost these people and that's going to give momentum over in the Senate to see if they can find the 10 people to say they ought to get to the bottom of it," said Trump's former 2016 presidential primary opponent.
Trump's power is still dominant
It's worth remembering 35 Republican votes in favor of the commission represents a small fraction of the overall GOP caucus. A total of 175 Republicans voted against establishing the panel, the best hope of arriving at an established national set of facts about Trump's effective coup attempt against Congress.
The sizable vote against a deal to establish the investigation, which drew concessions from Democrats and was negotiated by New York GOP Rep. John Katko, showed the still-vibrant power of Trump within the party.
Late on Tuesday, Trump wondered in a statement whether McCarthy and Senate Minority Leader Mitch McConnell were "listening" to his bid to whitewash an egregious assault against US democracy.
Within 24 hours, the ex-President had his answer. McCarthy was said by sources to be imposing intense pressure on his GOP members who were thinking about backing the bipartisan compromise.
Even more significantly, McConnell — who had said he was open to hearing arguments for the commission —
came out against it.
His decision did not just show the power of Trump, but also just how much the party needs the base voters on whom the McConnell and McCarthy are relying in their quest to take back control the House and the Senate in the midterm elections next year.
A tough decision for GOP senators
The fact there is not overwhelming support to investigate an incident in which a sitting President sent his mob to attack Congress to try to disrupt the transfer of power to his successor tells an eloquent story about the state of US politics.
The move by McConnell, who fiercely condemned the Capitol insurrection but ultimately made the political calculation not to convict the ex-President at his impeachment trial, could be crucial.
He, in effect, gave many of his Senate troops cover to vote against establishing the commission with his arguments that it had been over-politicized by House Democratic Speaker Nancy Pelosi and that it would risk detracting from a large number of criminal prosecutors against January 6 rioters.
The bill is in doubt because Republicans face the same political choices as they did when most of them wavered over holding Trump responsible in his second impeachment trial for the mob attack he incited.
The sanctity of free elections and America's two-and-a-half century old experiment with democratic self-government is one thing. But any senator who wants a future in the party and the chance of enjoying life in a GOP majority after the midterm elections needs the ex-President's most committed voters.
There are plenty of examples of what happens to Republicans willing to defy Trump. Wyoming Rep. Liz Cheney, who put the principle of peaceful transfers of power above her own career, lost her House leadership post. Republicans in the House and Senate who voted to impeach and convict Trump have been ostracized by colleagues, censured by local parties and are already staring down challenges from pro-Trump primary opponents.
An emerging midterm strategy
Apart from Trump's influence, there are several other reasons why Republican leaders are opposed to a formal commission like the one that investigated the terrorist attacks on September 11, 2001.
Any final report of the commission is likely to be highly critical of the ex-President's role in claiming the US election was stolen and then inciting furious supporters to march on the US Capitol as Congress was certifying his defeat.
A panel armed with subpoena powers might also call key figures like McCarthy himself for high profile testimony under oath about his own involvement in the insurrection, including an angry phone call with Trump as it unfolded. That would be deeply embarrassing since McCarthy has hitched his party to Trump's still-burning political star as he tries to win the speaker's gavel next year.
While it would also probe failings in the US Capitol Police and security around the Capitol, the commission might also be likely to note the role played by many members of Congress in fanning Trump's lies about election fraud.
And it would be a massive public spectacle, with days of televised hearings and testimony likely to be damaging to Trump and his party.
Republican leaders have also been remarkably open about other reasons for their reticence to vote for the commission: They want to crank up the pressure on President Joe Biden over his expansive liberal agenda and concentrate on their midterm message.
South Dakota Sen. John Thune, the No. 2 Senate Republican, has said he's fine with a commission, as long as it is set up in a way that cannot be weaponized politically by Democrats.
But he also told CNN on Wednesday that he wanted to talk about "the kinds of things that the American people are dealing with: That's jobs and wages and the economy and national security, safe streets and strong borders — not relitigating the 2020 elections."
"A lot of our members, and I think this is true of a lot of House Republicans, want to be moving forward and not looking backward. Anything that gets us rehashing the 2020 elections I think is a day lost on being able to draw a contrast between us the Democrats' very radical left-wing agenda," he added.
Any search for the 10 votes needed to enshrine the commission would likely start with the seven Republicans who voted to impeach Trump in February over the insurrection.
Several of their number, like Utah Sen. Mitt Romney and Alaska Sen. Lisa Murkowski, have long established themselves as enemies of Trump and probably have little left to lose politically from supporting a probe. Others, like Sens. Richard Burr of North Carolina and Pat Toomey of Pennsylvania, are retiring so may be less constrained by a midterm focus than some of their colleagues and have the luxury of not caring about future primary challenges.
But a senator like Bill Cassidy of Louisiana — who surprisingly voted to convict the ex-President may now have reasons to keep his head down — has more difficult questions to answer as he mulls his vote.
Another senator who voted to convict, Sen. Susan Collins of Maine, said on Wednesday that she felt Pelosi had politicized the commission and that she could not support it in its current form.
And even if all the seven Republicans who voted to convict Trump over the Capitol insurrection stayed in line on the current matter, Democrats would still have to find three more Republicans to rebel against McConnell.
The complicated mathematics suggests that the 35 votes of conscience in the House on Wednesday night may not be a harbinger of an even more significant revolt against the former President in the Senate.