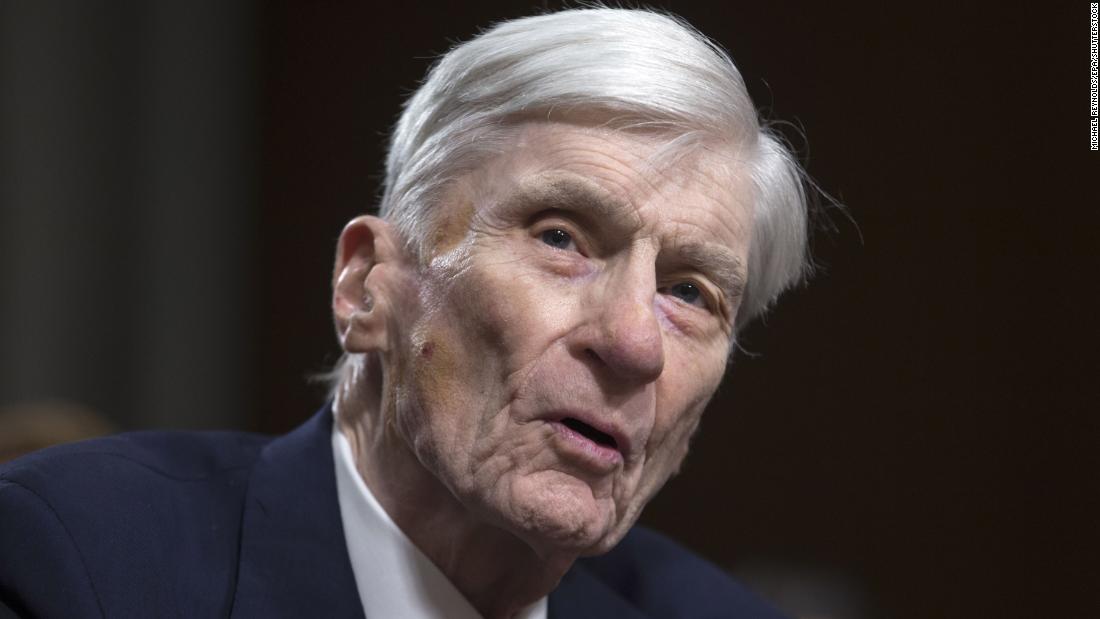 Warner died peacefully on Tuesday evening of heart failure, surrounded by his wife Jeanne Warner and other family members, a former staff member said.
Funeral arrangements have not yet been announced.
Warner, a Navy veteran of World War II and a Marine during the Korean War, served as a Republican US senator from 1979 through 2009, becoming the second-longest serving senator in Virginia's history. By the time of his retirement, he was seen as a principled Republican who, although he frequently supported the multiple GOP presidents whose terms overlapped with his tenure in the Senate, wasn't afraid to buck his party in several controversial instances and who garnered wide respect across the political spectrum.
"Virginia, and America, have lost a giant," Virginia Gov. Ralph Northam, a Democrat, said in a statement Wednesday in which he also said the Virginia state flag will be flown at half-staff over the Virginia Capitol on the day of his funeral.
"In Congress, we all knew him as a voice of courage, conviction and comity; a leader unafraid to speak the truth but always committed to finding common ground and consensus," House Speaker Nancy Pelosi said.
Warner's military experience led him to be one of the most respected voices in Washington on military and national security issues, and he served as chairman of the Senate Armed Services Committee during the early years of the Iraq War.
Warner initially supported the US-led invasion, voting in favor of the of the 2002 joint resolution authorizing the use of military force against Iraq. But Warner drew increasingly critical of the war. In 2006, after an overseas trip to Baghdad, Warner
said
the situation was "drifting sideways" and called for a "change in course."
He opposed then-President George W. Bush's decision to increase troop levels in Iraq in 2007, introducing a bipartisan resolution to put the Senate on the record against the President's plan, and later
called on Bush to start withdrawing some troops.
It wasn't the only time he bucked his party. He chose
not to support
Robert Bork's 1987 nomination to the Supreme Court and
opposed
Oliver North's 1994 candidacy for US Senate.
In an interview in 2017, Warner told CNN's Dana Bash that he wanted his legacy to be "just that I was honest, independent in my thinking."
Gained fame for marrying Elizabeth Taylor
Warner was born on February 18, 1927, in Washington, DC. He was 17 when he enlisted in the US Navy during World War II, and later served as a US Marine in the Korean War.
He worked in the Department of the Navy for five years during the Vietnam War and was secretary of the Navy from 1972 to 1974. When he served as chairman of the nation's bicentennial celebration in 1976, he met his future wife and Hollywood icon Elizabeth Taylor.
"I was invited to escort her, at the request of Her Majesty's staff, to the small dinner party given at the British Embassy," Warner recalled during an interview on CNN's "Newsroom" in 2011. "I say small, but President Ford was there, Vice President Rockefeller, Henry Kissinger. It was quite a party. And we met. And then a week or so later, she said she'd like to come down to see my farms and ride a horse, and that was the beginning."
But after Warner became a senator, the two
separated
in 1981 and divorced the following year. Warner and Taylor, however,
remained friends
until Taylor's death in 2011.
Warner later won election to a second term by 70% of the vote against Democratic challenger Edythe Harrison. He would serve five terms
before deciding to retire in 2009
, citing his age and the demands of his job.
Virginia Democratic Sen. Mark Warner (no relation), who gave John Warner a tough reelection battle in 1996 and now holds his old Senate seat, on Wednesday called his former political foe a "consummate statesman and a public servant who always put Virginia before politics; who put the nation's security before partisanship; who put the country's needs above his own."
"Even though we came from different political parties — even though we ran spirited, albeit respectful, campaigns that year — as soon as the election was called, it was over. And even though John Warner was already a towering institution in Virginia politics, and I was just some young upstart, he allowed me to become his friend. I felt then, as I do today, incredibly privileged," Mark Warner said in a statement.
In retirement, John Warner would make some notable endorsements of Democrats. He
backed
Mark Warner in 2014 over GOP candidate Ed Gillespie and supported his bid for reelection in 2020. John Warner also
endorsed Hillary Clinton
for president in 2016 against Republican Donald Trump and
backed Joe Biden
last year.
"I have crossed the line to support other candidates because I was looking for what's best for Virginia and then what's best for your party," he told CNN's Bash in 2017. "So, I don't know, I have a quixotic spirit in me, and I always knew what I feel it need to be done."
This story has been updated with additional details.