About 150 Ukrainian refugees will be moved from Dublin Airport to a military camp in County Meath from Tuesday.
Around 250 people have been living in an old terminal building for much of last week due to the shortage in state-run accommodation.
The Irish Government said Gormanston army camp will house up to 320 people when fully operational.
Close to 42,000 people have arrived in the Republic of Ireland having fled the Russian invasion.
Speaking to broadcaster RTÉ, the Irish minister for integration, Roderic O'Gorman, said the people housed at Gormanston would stay for a maximum of one week.
"We have been focused on trying to reduce the numbers of people staying in City West, that's why we are looking to bring in additional accommodation," he said.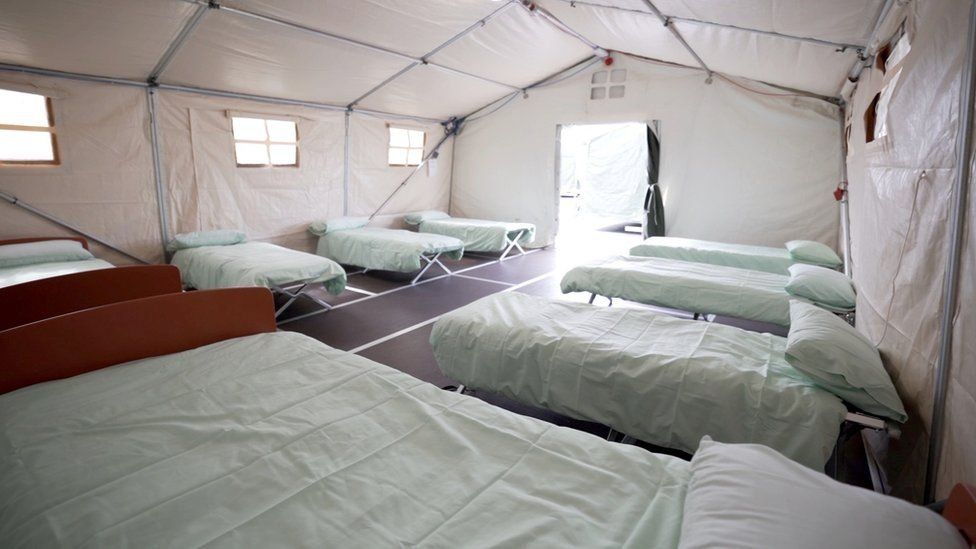 The chief executive of the Irish Refugee Council, Nick Henderson, said the availability of accommodation has been greatly reduced.
"I think it really is an indication of the serious situation that we are in, that we have come to a point where we are accommodating people in tented style accommodation, according to the minister yesterday it will be as many as 16 to a tent," he told BBC NI's Good Morning Ulster.
Mr Henderson said it was likely other similar facilities would be opened across Ireland.
Meanwhile, refugees travelling to Ireland from 20 European countries will be required visas from Tuesday.
Mr Henderson believed the Irish government was introducing this measure due to the shortage in accommodation and people from other countries exploiting the system.
"We say that this decision is regrettable, it's disproportionate and it's regressive".
"We would encourage the government to focus on its policies, bring in accommodation in the medium and long term, otherwise we think there will continue to be pitch points over the summer and into the autumn where we are forced to use accommodation of this manner."
Minister for Agriculture Charle McConalogue told RTÉ the government's visa plan was "fair and appropriate".