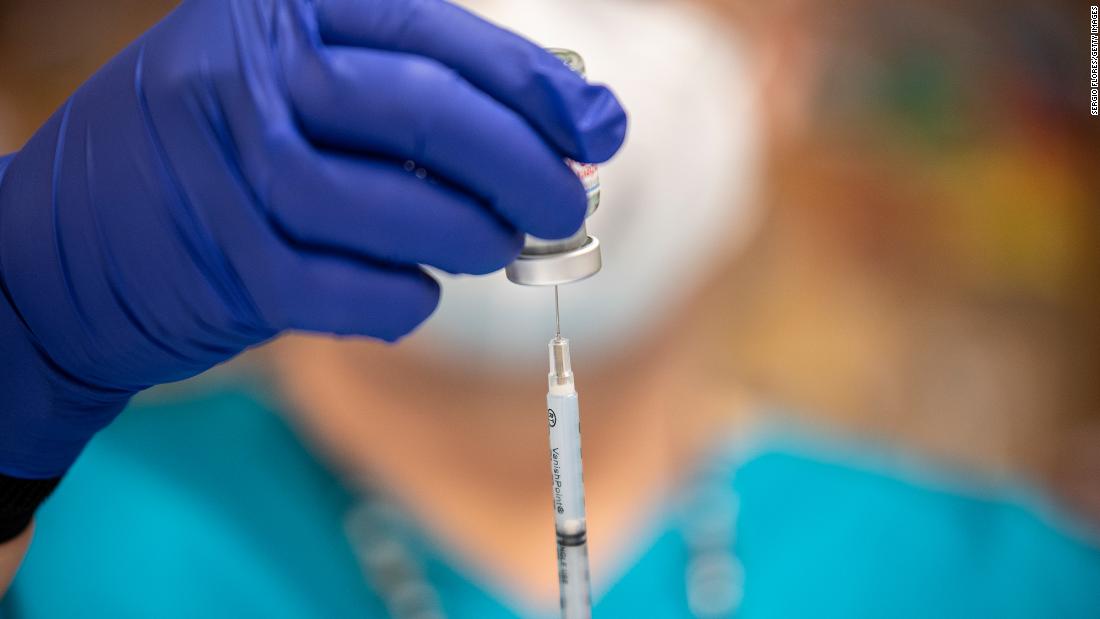 A version of this story appeared in CNN's What Matters newsletter. To get it in your inbox, sign up for free
here
.
CNN aired a special on Saturday with "Sesame Street" to explain the vaccine to children ages 5-11, who are now eligible to get the shot.
Meanwhile, Aaron Rodgers, the Green Bay Packers quarterback, did not. Then he lied about it. And now he's trying to explain it away.
Rodgers seemed so smart when guest hosting "Jeopardy" in the spring. He did not sound very smart when he
spewed Covid-19 conspiracy theories
on a podcast Friday and said that he had done his own research rather than rely on the medical community's advice. Once known for speaking out about social justice, he's now mainlining conservative talking points and complaining a "
woke mob
" is out to get him.
Some people will not be convinced.
Rodgers bought into the false and viral fear that the vaccine could affect fertility. He's getting advice from the anti-vaccine podcast host Joe Rogan, who is not a doctor but who
debated vaccines for more than three hours
with CNN's Chief Medical Correspondent Sanjay Gupta last month.
Room for debate. The vast majority of doctors and the public health community is on board with vaccines. But support is not unanimous. It is not completely settled within the National Institutes of Health, which includes Dr. Anthony Fauci's National Institute of Allergy and Infectious Diseases, according to a Sunday report in the Wall Street Journal.
The paper profiles the NIH's Dr. Matthew Memoli, a senior researcher who
disagrees with the country's current all-in approach on vaccines
. He's applied for a religious exemption for himself and feels the country should be pushing the vaccine to at-risk communities like seniors rather than giving it to as many people as possible.
He'll take part in a debate streamed to NIH employees, according to the Journal, and he is apparently willing to leave his job rather than get the Covid-19 shot.
US borders reopen.
While debates continue, travel policies are evolving. See: fully booked flights from Europe and
traffic stretching for miles
into Mexico. US borders opened up to vaccinated international travelers Monday, ending an 18-month moratorium and marking a welcome change to the pandemic lifestyle as cases drop in the US. But this comes just as the virus reemerges in Europe.
Who can enter the US? Fully vaccinated travelers from 33 countries — including the United Kingdom and much of Europe — can now enter the US without needing to quarantine, provided they have proof of vaccination and a negative viral test.
Where is the virus surging? Large swathes of Europe are battling to beat back surges of the Delta variant, amid the relaxation of restrictions and stuttering vaccine rollouts in some countries, with the WHO warning half a million Europeans could die with Covid-19 in a potentially devastating winter.
Germany on Monday recorded its highest seven-day incidence rate since the pandemic began…
…neighboring Austria banned unvaccinated people from restaurants and hotels amid a surge in cases.
Iceland has also reintroduced masks and social distancing rules following a rise. And cases are hovering at record levels in Russia, Ukraine and Greece.
Going from pandemic to endemic.
I liked this phrasing in
a CNN report
since, with borders opening, schools in session and young kids getting the shot, it feels like we're in a new place. Maybe that's the "endemic" part of it.
From the report: Endemic means that a disease has a constant presence in a population — but it's not affecting an alarmingly large number of people as typically seen in a pandemic. Even in early 2020, as the pandemic was ramping up, officials at the World Health Organization predicted that the novel coronavirus "may become another endemic virus in our communities" and never go away.
Backlash to Covid-19 policies could play out for years. CNN's Pamela Brown sat down with a group of Virginia women who voted for Joe Biden in 2020, but supported Republican Glenn Youngkin in the state's governor's race last week.
"I had to figure out what can I do to make sure that never happens again," Shawnna Yashar said of school closures.
A warning for Biden and Democrats.
While vaccines are the topic of ongoing debates, voters are more focused on the economy than the pandemic, per a new
CNN poll conducted by SSRS.
From the report: As the election year approaches, the nation's issue landscape appears to be shifting. With the latest wave of Covid-19 infections subsiding and prices on the rise, the economy (36%) outranks the coronavirus pandemic (20%) as the most important issue facing the country. Immigration (14%) and climate change (11%) follow and are the only other issues to land in double-digits, followed by national security (8%), racial injustice (5%) and education (3%).
Biden's approval rating is under 50%, a perilous political position and similar to previous presidents like Donald Trump and Barack Obama, who suffered midterm election losses and lost majorities on Capitol Hill.