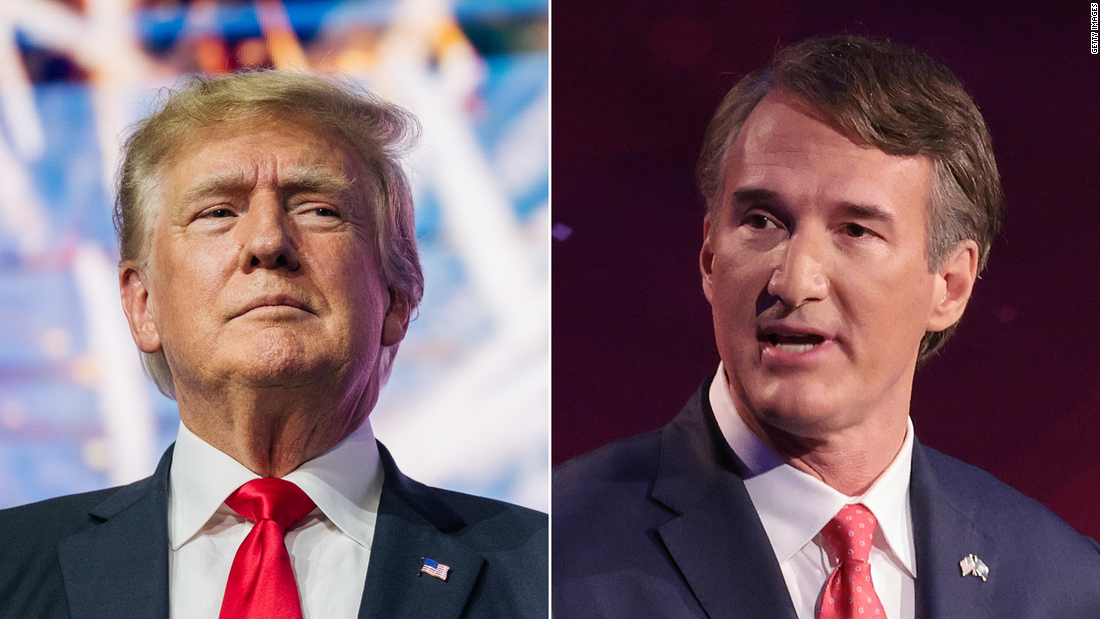 A version of this story appeared in CNN's What Matters newsletter. To get it in your inbox, sign up for free
here
.
It's very abnormal for that party to be led by a person who actively tried to engage in a coup and overturn the most recent election results.
Tuesday marks the first test of American democracy since the insurrection.
What's happening in Virginia? Most of you don't live in Virginia like me and many in the national political press and punditry.
Can a vote for a Republican be separated from Trump? As long as Donald Trump is the preeminent Republican claiming credit for GOP wins, it's hard to argue a win by Youngkin doesn't also give power to Trump.
People of good faith can disagree. And yet it's equally important to note it's a state election based on state issues, and there are real policy differences between the parties on social issues, taxes and support or opposition to the social safety net. Trump's not on the ballot, so this vote shouldn't have anything to do with him.
This is the conundrum for voters. Many Americans genuinely believe in smaller government but also genuinely dislike Trump's anti-democratic behavior.
The obvious narratives are set:
Even if Democrat Terry McAuliffe wins, it will likely be with a smaller margin, signaling trouble for Democrats in November.
If Youngkin wins in this state President Joe Biden carried by nearly 10 points in 2020, it'll be nothing short of a blaring alarm for Democrats.
Trump light vs. mini-Trump.
No matter what happens, CNN's Stephen Collinson writes
Youngkin has established a template for swing state Republicans
to appeal to Trump voters while keeping Trump himself at arm's length, essentially signaling to the hardest-core Trump supporters while speaking to the suburban women who seem to decide elections.
And no matter what happens to Democrats, it's clear
McAuliffe's strategy of relentlessly painting Youngkin as a mini-Trump
was not as effective as he might have hoped. Youngkin fed off frustration in Virginia suburbs with issues like banning critical race theory from schools, which he turned into a top issue. It's not exactly a subtle racial wedge and appeals in particular to the same kinds of White voters who support Trump.
Youngkin's message of parental rights is one that Republicans have already adopted nationwide.
Trump benefits from a Youngkin win. There is something else to consider here, however: While Youngkin downplayed Trump and kept him out of the state, his potential victory does a lot for the comeback Trump is plotting — showing how much he has dominated the GOP.
American voters often do contradictory things.
The most recent
Washington Post-Schar School Virginia poll
showed a tied race in Virginia among likely voters and the slightest possible McAuliffe edge among registered voters. Pollsters pull a smaller subset of answers from all registered voter respondents to get that "likely" figure.
Trump was not the motivating factor in this race. While most voters in the poll — 71% — said Youngkin's ideas and policies are similar to Trump's, that may not be motivating their votes.
The Post's poll asked likely voters how Trump's endorsement of Youngkin affected their vote. Most likely voters — 53% — said it made no difference. More than a third — 37% — said it made them less likely to support Youngkin. Just 9% said it made them more likely to support him.
And the Virginia voters' views on issues are in a different place than Youngkin's.
More than two-thirds of Virginians said they want abortion laws to either stay the same or be less restrictive. Youngkin does not support the most extreme abortion restrictions, but he does support tightening state laws.
Youngkin opposes vaccine requirements, but most registered voters — 61% — said they support requiring teachers and school employees to be vaccinated against Covid-19, although support has dropped; two-thirds supported vaccine requirements for teachers in September.
Other story lines to watch
We may not know the results on election night,
according to CNN's Harry Enten
, who notes that early in the country's history people didn't even vote on the same day. But the rise of vote by mail means the rise of multiday counting.
New Jersey is a solidly blue state but
Phil Murphy
could be the first Democratic governor to win reelection in 40 years.
Voters in Minneapolis will decide the
future of policing
in that city. The question goes beyond defunding the police.